Facelift
Photo credit: Olga Ekaterincheva/Shutterstock
Also known as rhytidectomy, facelift is a cosmetic surgery which involves raising and tightening of facial skin with an aim to make the face appear more youthful. It is especially effective for age-related skin sagging in the lower portion of the face although some patients may also require the so-called neck lift. For best results, facelift is sometimes combined with other rejuvenating procedures such as the formerly mentioned neck lift, brow lift and eyelid surgery, to mention just a few.
Why It's Done?
Facelift is done to eliminate and reduce the signs of ageing, most notably skin drooping, and deep creases and wrinkles below lower eyelids. By removing excess skin and tightening the remaining skin, the face looks firmer, fresher and younger, helping the patient both look and feel better about their face. However, facelift cannot remove fine wrinkles – especially around the eyes, upper lip and around the nose. Also, it's not effective for skin damage caused by UV light, pigmentation problems and other skin issues. But it's possible to have a facelift in combination with cosmetic procedures that do address the mentioned skin flaws and problems.
Ideally, facelift should be done while the skin hasn't lost elasticity completely which means until the age of about 70 years although it's also possible to achieve excellent results in patients above the age of 70.
Facelifts are the one of the most common cosmetic procedures in the following areas of the UK. 
The Procedure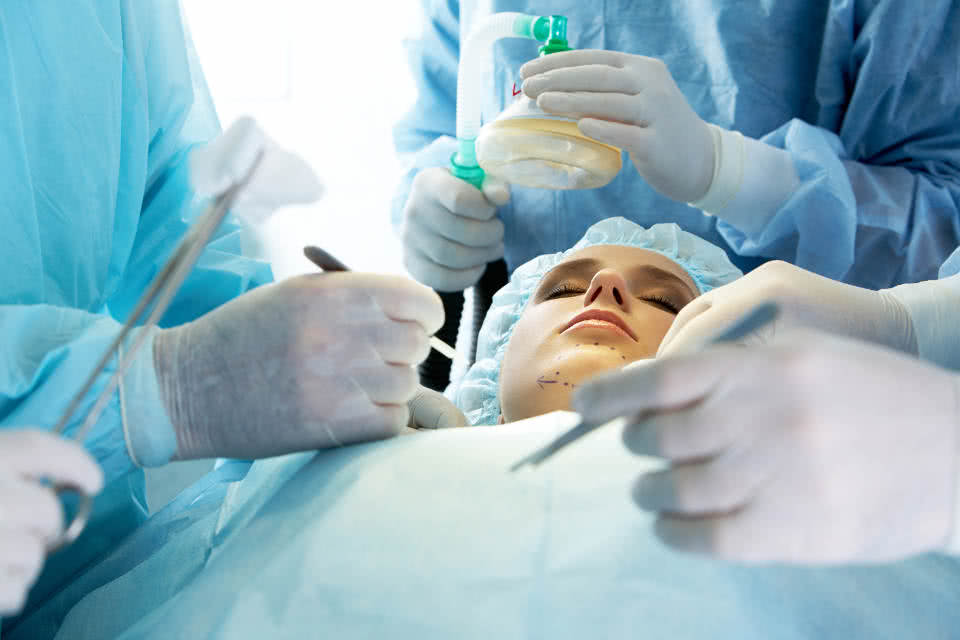 Photo credit: Pressmaster/Shutterstock
The actual procedure depends on the severity of skin drooping and the desired results. There are several techniques to lift and tighten facial skin but the majority of surgeons decide for one of the following two lifts:
Traditional facelift. This technique involves making an incision running from the temples down the ears and back of the scalp, more or less following the hairline in order to make the incision scar less noticeable. After removing the surplus skin (along with some fat, if necessary) and redistributing the underlying tissue, the remaining skin is pulled up and backwards, and sutured in place.
Limited-incision facelift. This technique is more or less the same as the traditional facelift with the exception that it involves making several smaller incisions along the hairline.
Neck lift is sometimes also considered a type of facelift. It improves the appearance of the lower face, however, its main goal is to tighten the skin on the neck rather than the face. Neck lift is often done in combination with facelift in order for the chin and neck to complement the rejuvenated face.
Other cosmetic procedures that can be performed along facelift include brow lift, eyelid surgery, lip enhancement and laser resurfacing.
The Results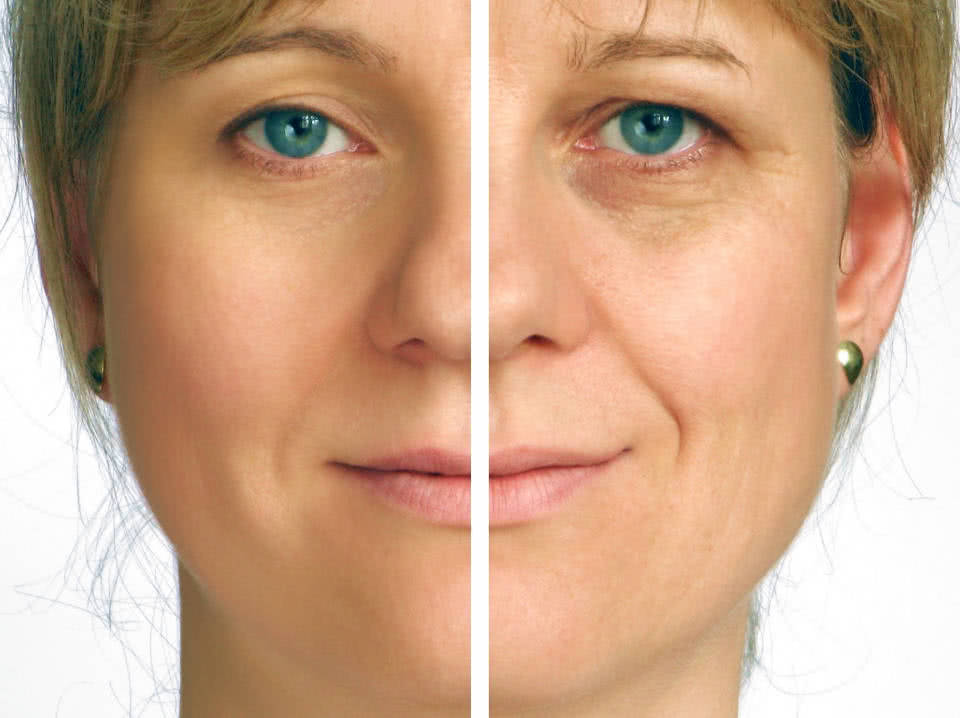 Photo credit: Alena Brozova/Shutterstock
After the facelift surgery, the skin is tighter, firmer and younger-looking. The procedure can also reduce other signs of ageing including wrinkles and creases although the best results are achieved in combination with other cosmetic facial treatments.
While turning back time for years or even decades, facelift unfortunately can't stop ageing which means that the skin will eventually begin to sag again. But even then, most men and women have a more youthful appearance than they would without having a facelift.
Side Effects and Possible Complications
After the procedure, it's completely normal to experience some swelling and bruising which can persist for weeks. Likewise, there is normally some pain which, just like swelling and bruising, is only temporary. Until it goes away, patients are recommended to take painkillers. Many patients also report to experience stiffness and numbness which can take several months to completely go away.
Unfortunately, cosmetic procedures including facelift don't always go smoothly and some patients develop more serious problems including:
Injury to the nerves
Visible scarring that doesn't improve with time
Hair loss at the site of the incision
Pronounced facial asymmetry
Facelift sometimes doesn't bring the desired results and some patients may require a revision surgery. And just like any other surgical procedure, facelift also poses a risk of:
Heavy bleeding
Infection
Severe reaction to anaesthesia
Blood clot
Is Facelift Right for You?
You may consider having a facelift if you have sagging skin on your face, deep creases below the lower eyelids or/and chin, or drooping skin on your lower jaw (jowls). After the procedure, the skin will be tighter and firmer which in turn will make your face look younger. While facelift also removes or reduces some wrinkles, these are more effectively treated with other cosmetic procedures that can be done in combination with facelift. The latter also has no effect on skin imperfections such as sun damage and scars.
Ideal facelift candidates are men and women from their 40s to the 60s because the best results are achieved while the skin is still elastic. However, it is also possible to have a facelift after the age of 70.
The Cost
Just like other cosmetic procedures, facelift is typically done privately. It is being offered across the country, while cost varies greatly from clinic to clinic as well as from one surgeon to another. To have a facelift in the UK, expect to pay somewhere in the range of £4,100-£9,500.
Table 1: Cost of Facelift in the UK
| Region | Lowest Price | Highest Price |
| --- | --- | --- |
| London (Harley Street) | £4,500 | £4,500 |
| South East England | £4,500 | £9,500 |
| South West England | £5,175 | £7,225 |
| Wales | £5,095 | £5,875 |
| East Midlands | £5,820 | £7,157 |
| West Midlands | £4,625 | £7,320 |
| East of England | £4,810 | £8,200 |
| North East England | £4,775 | £6,380 |
| North West England | £4,100 | £6,775 |
| Yorkshire and the Humber | £4,400 | £7,865 |
| Scotland | £5,190 | £6,620 |
Source: Private Health UK

The cost of facelift abroad is generally lower than in the UK, depending on how far you are willing to fly -although the farthest destinations aren't always the cheapest. Also, having a facelift (or any other cosmetic surgery) abroad brings additional cost including travel, accommodation and insurance. But even then, the most popular destinations for cosmetic surgery abroad are considerably less expensive than the UK clinics. But only under the condition that everything goes smoothly. Otherwise, having a facelift abroad can turn very expensive.
 
Table 2: Cost of Facelift Abroad
| Country | Procedure Cost | Total Cost* |
| --- | --- | --- |
| Poland | £2,000 | £2,481 |
| Czech Republic | £1,280 | £1,909 |
| Hungary | £2,490 | £3,046 |
| Lithuania | £3,108 | £3,755 |
| Turkey | £2,750 | £3,326 |
| Spain | £4,286 | £5,114 |
| Belgium | £2,890 | £3,872 |
| Thailand | £2,333 | £3,418 |
*includes the cost of the procedure, travel, accommodation and insurance
Source:Treatment Abroad
Finding a Surgeon for Facelift
Photo credit: Production Perig/Shutterstock
It's highly advisable to see your GP before starting to search for a surgeon for facelift to ensure that you're in good health and that you don't have any medical conditions which could affect the outcome of the cosmetic procedure or be worsened by the latter. Your GP will also tell you whether you are a good candidate for facelift or/and if other cosmetic procedures would perhaps be more appropriate based on your expectations and overall health status. Furthermore, they may recommend you a good surgeon for facelift.
You may also look for a surgeon for facelift on your own. Ask your friends and colleagues if they or anyone they know can recommend a good cosmetic surgeon. Another option is to simply go online. Other people's experience, reviews and testimonials can be very helpful but you are highly recommended to search for a surgeon for facelift via the Internet using trustworthy websites only. Examples include the General Medical Council (GMC), British Association of Aesthetic Plastic Surgeons (BAAPS) and British Association of Plastic Reconstructive and Aesthetic Surgeons (BAPRAS), to name just a few. Besides excellent databases of cosmetic and plastic surgeons, the mentioned websites also offer plenty of useful information about facelift and other cosmetic procedures, both surgical and non-surgical.
Questions to Ask and Things to Pay Attention to When Choosing a Surgeon for Facelift
After completing your research on facelift surgeons, start making consultation appointments. It's a good idea to see several surgeons who are registered with the GMC and are experienced, trained and qualified to perform facelift.
During your consultation meeting, the surgeon should evaluate your face, ask you what you expect from the procedure and explain what is going to be done, what technique is going to be used and why, how to prepare, how to take care of yourself after the surgery, etc. But they should also encourage you to ask questions. You are highly recommended to take advantage of the opportunity to clarify any questions, concerns or doubts you have about the procedure and anything related to it.
You are also recommended to make sure to ask the following 10 questions:
Will you lead the surgical team?
Are you qualified to perform facelifts?
How long have you been working as a facelift surgeon?
What facelift technique you are going to use and why?
What other techniques are available and why they are not suitable?
Can you tell me your patient satisfaction levels?
What are the disadvantages and potential risks of the procedure?
Will I be provided care/treatment in the event I develop any complications?
What if I'm not satisfied with the results?
What's the cost and what does it include?
Keep in mind that the surgeon shouldn't ask you to make a decision immediately. Instead, they should encourage you to take enough time to think things through – not only which surgeon to choose but also whether facelift is right for you in the first place.
What if Something Goes Wrong?
It's a possibility which should be considered before scheduling the procedure. The risk is low, however, every surgery brings some risk of complications. Also, it is possible that the results won't meet your expectations. In case something goes wrong – no matter if you develop post-operative complications or aren't happy with the outcome of the procedure – contact the surgeon who performed the facelift to receive appropriate care/treatment and to tell you what happens next.
If you believe that you were a victim of medical negligence or/and that you didn't receive appropriate care, you can make a complaint to the General Medical Council (GMC) or/and report poor care to the Care Quality Commission (CQC).