Breast Implants
Published on: 6 Nov 2017, 3:05 p.m.

Medically reviewed by a licensed NHS consultant
Last updated: 15/08/2019
Get Free & Simple Pricing, Procedure & After Care Information from a Licensed Consultant Now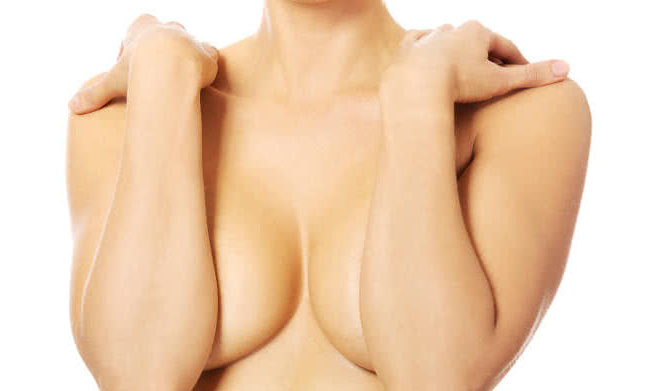 Photo credit: Piotr Marcinski / Shutterstock
Breast implants are saline or  silicone filled prostheses which are surgically inserted under the breast tissue or the breast muscle, usually to increase the size of the breasts. Known as augmentation mammoplasty and breast augmentation, enlargement of the breasts' size is the most popular surgical cosmetic procedure in the UK. According to the British Association of Aesthetic Plastic Surgeons (BAAPS), the number of breast augmentation surgeries in 2015 reached 9,652 which is an increase of 12% since 2014.
Besides for "boob job", breast implants can also be used to correct the shape or symmetry of the breasts and for breast reconstruction, for example to restore the breast shape after having a mastectomy (surgical removal of the breasts that is done to prevent or treat cancer).
---
Table of Contents:
---
Breast Enlargement Surgery - An Overview: 
Procedure time: 60 to 90 minutes
Overnight stay: 0 - 1 night
Anaesthetic: General or local with sedation
Recovery time: 6 weeks 
Full results: Approximately 3 months
Average cost: Around £3,500 to £8,000
---
Deciding if Breast Implants are Right for You?
If you are unhappy with your breasts' size or shape, or if you recently had a mastectomy, breast implants may be worth to consider. They are most often used to increase the size of the breasts but they can be also used to correct the shape, make the breast appear more symmetrical and reconstruct the breast mound. It is important to keep in mind, however, that silicone and saline implants can't correct or prevent breast sagging and that your breast will continue to "age" after the surgery. Also, they may also change in shape due to weight gain or/and weight loss. Last but not the least important, keep in mind that they don't lasts a lifetime. On the contrary, they are usually removed and replaced within 10 years.
What are Breast Implants Used For?
Breast implants are most often used for breast augmentation which is a purely cosmetic procedure. The goal is not only to increase the size of the breasts but also to enhance the overall appearance of the breasts and subsequently, boost the patient's self-confidence and self-esteem. Other uses include alternation of breast shape, making the breast appear more symmetrical and breast reconstruction. The latter is typically performed during or after mastectomy or breast removal for health reasons. Besides saline and silicone implants, breast reconstruction sometimes also uses the patient's own tissue to create new breast mound(s).
It's also essential to consider theadvantages and disadvantages of cosmetic procedures, in general, before making any decisions about changing your appearance permanently.
Finding a Surgeon
The best place to start looking for a surgeon to perform cosmetic breast surgery or breast reconstruction is your GP. They will tell you whether the desired procedure is suitable for you based on your medical record and provide advice on how to prepare, things to consider before making the final decision and other useful information including where and how to look for a good surgeon.
Take some time to inform yourself about different options including surgeons and hospitals/clinics offering the desired procedure. The Internet is a good place to do your research but be sure to use trustworthy and reliable websites. Examples include the BAAPS,British Association of Plastic Reconstructive and Aesthetic Surgeons (BAPRAS),Royal College of Surgeons (RCS),General Medical Council (GMC)andCare Quality Commission (CQC)some of which have excellent databases of plastic surgeons including those that specialise in aesthetic and reconstructive breast surgery. However, don't limit your research to the Internet alone. Be sure to arrange an appointment with at least a few surgeons to get first-hand information as well as to get a better impression of what they are like and above all, whether they can meet your expectations.
- Initial Consultation
Once you have shortlisted a few clinics/hospitals to have your breast enlargement surgery, you should contact them to have a consultation. Breast enlargement consultations can take anywhere between 15 minutes to more than an hour long. As a result, it is important that you focus your full concentration towards the meeting and getting the most out of it as possible.
During your initial consultation, you will discuss what you are hoping to gain from the procedure with the surgeon who is actually going to perform the surgery. They will assess your breasts carefully and discuss what you want from the procedure. Based on their expertise and experience, they should provide an opinion on what can and cannot be done, and why.
Please note: The surgeon may also take this opportunity to examine your breasts and take some photographs for your medical records. If you would like someone to accompany you for the appointment, this is perfectly fine.
A good surgeon will always be happy to answer any questions you may have to ensure that you fully understand what awaits you if you decide to have the procedure, including an explanation of the procedure, the different implants and all the things that can go wrong. Likewis, a good surgeon will encourage you to take some time before making your final decision, even if you feel confident you want to go through with the procedure. 
- Questions to Ask Your Surgeon 
The initial consultation is the perfect opportunity to ask any questions, outline any concerns and get all the information you need to make a decision. In addition to helping you understand the procedure and both its risks and benefits, asking lots of questions will also help you determine whether or not you will receive care to the highest standards of quality and meet all your expectations.
Some important topics to cover include:
Your expectations – What you want to achieve post-surgery.
The implants – What types are available and which implants are best for you?
The procedure – What procedures are on offer and which works best for you.
Where will the surgery be performed – On the premises or elsewhere?
Costs – How much will breast enlargement cost, and will there be a fee for the initial consultation?
Questions to ask the surgeon during your initial consultation:
Will you perform the procedure?
What qualifications and training do you have?
How many procedures of this type did you perform?
How will procedure be performed? (e.g. local or general anaesthesia, location of the incision, site of implant placement, etc.)
What are the advantages and disadvantages of the different options available?
What are your patient satisfaction levels?
What are the risks and possible complications?
What care I will be provided in case I develop a complication?
What if I'm not happy with the results?
How much the procedure will cost and are there any other costs involved?
- Post-Consultation Decision
Providing that you book your initial consultation through a respected surgeon, you should be given a whole host of information that should ensure you are able to make a better-informed decision about whether a breast enlargement is the right choice for you.
Any good surgeon will tell you that this not a decision that should be taken lightly or rushed into. As a result, if you decide to go ahead with breast enlargement surgery, it is advised to take some time before making your final decision (at least two weeks), even if you feel confident you want to go through with the procedure. This allows you to enough time to ask any further questions and have another consultation if necessary.
Preparing for Surgery
- Before the surgery
Before breast enlargement surgery, you must prepare for the operation both mentally and physically. Your surgeon will explain to you in greater detail what happens pre-breast surgery and how to prepare for your operation, but generally, before your operation, you will have a pre-operative assessment with a nurse to check your general health to ensure it is safe to go ahead with the surgery.
The breast enlargement procedure usually takes place under general anaesthesia, which means you'll be asleep during the operation. Being administered general anaesthetic means you shouldn't eat or drink anything in the hours before surgery – your consultant will give you clear instructions which you should follow. Typically, you must not eat for about six hours or drink for two hours and avoid certain fluids (milk) and water – black tea or black coffee is usually recommended.
Depending on your surgery time, it is possible that you may have to stay overnight, so you will have to prepare for this eventuality if this may be an issue, such as organising childcare for example. More often than not, if your surgery was scheduled for later on in the day, you will need to stay overnight. As a result, you should pack an overnight bag with some essentials that you will need, including the following:
Any medication (including pain relief)
Dressing gown and slippers
Post-surgery support bra
Something to keep yourself occupied, such as a book
Toiletries and sanitary products
However, if your surgery is in the morning, you should be safe to go home providing there are no complications. You will need to have a responsible adult who can drive you home and have a friend or relative stay with you for at least 24 hours after to procedure.
Do you need health insurance for breast enlargement?
As breast enlargement surgery is considered an elective cosmetic procedure, often insurance doesn't cover it. Some insurance providers don't cover complications that may arise during the procedure or after either, but this is something to discuss with your health insurance company before going ahead with the procedure.
Most women have to pay out of their own pockets if it is a purely cosmetic procedure, however most companies will cover breast implants for women who have had mastectomies due to breast cancer.
- Day of the Procedure/At the Hospital
On the day of the procedure, you will meet with your surgeon and check you are still happy to go ahead with the procedure and if there are any further questions. Staff at the hospital or clinic will carry out any final checks and prepare you for surgery. This may include asking you to wear compression stockings to prevent blood clots forming whilst you're lying still during the operation and your recovery, as well as having an injection to prevent deep vein thrombosis (DVT).
Before the procedure, your surgeon will assess your breasts again and the position of your nipples. It is not uncommon for the surgeon to mark out where any incisions are to be made using a pen, ready for the procedure.
When your surgeon is ready, your procedure will begin. You will be given general anaesthetic to make you fall asleep during the operation, which will take between 60 to 90 minutes.
What happens during breast enlargement surgery?
Once the general anaesthetic has taken effect, your surgeon will make a cut in the skin on your breast, to insert the implant. Your surgeon will make a 'pocket' for the implant, which will be either under your breast tissue or under your chest muscle – you will have discussed previously. The implant is then inserted (sometimes a trial one is inserted first to check that the most appropriate size has been chosen) and then your surgeon will stitch up any incisions. Once the breast enlargement surgery is over, your surgeon may wrap your breasts in a supportive dressing.
About Breast Enlargement Surgery
- The Different Types of Breast Implant
Saline implants are inserted empty and filled with salt water when in place which can either be under the under the mammary gland or under the pectoral muscle. This means, should the implant leak, the implant's contents will be absorbed into the body and naturally expelled by the body. This type of breast implant creates a uniform shape, firmness and feel.
Structured saline breast implants
Much like saline implants, the structured implants are filled with sterile water and contain an inner structure, which aims to create a more natural-feeling implant.
Silicone breast implants are filled with silicone gel, which feels similar to natural breast tissue. If the implant leaks, the gel may remain within the implant shell, or leak into the breast implant pocket. It's worth noting that a leaking implant will not collapse.
If you choose silicone implants, you may need to visit your plastic surgeon regularly to ensure the implants are positioned properly and in good condition.
Gummy bear breast implants
Form-stable implants, also known as "gummy bear breast implants", tend to have more projection at the bottom of the breast and are tapered towards the top. They often maintain their shape, even if the implant shell gets damaged.
Inside the implant, the consistency of the silicone gel is thicker than traditional silicone gel implants and are much firmer than traditional implants.
Round breast implants make breasts appear fuller than form-stable implants. If you opt for a higher profile option, you can achieve even more projection. Due to the fact they are round in shape, they don't tend to move out of place.
Smooth breast implants are soft feeling, in comparison to other breast implants. As they are smooth and soft, they are freely able to move within the breast implant pocket, meaning they feel and look more natural than other options.
However, this type of breast implant may create some rippling under the skin.
Textured breast implants develop scar tissue to stick to the implant, making them less likely to move around in the breast pocket or reposition. This creates a firmer look and feel, and allows for less natural movement. 
However, this type of impant has a higher risk of developing folds or wrinkling. Some studies also suggest that textured implants have a correlation with contracting breast cancer. 
Nano-textured implants are a new range of textured implants, known to be significantly safer for use inside the body.
Nano-texture implants have been specially designed to create a smooth and irregular microstructure with no pores, which limits the number of sites for tissue ingrowth and consequently reduces the opportunity for tissue adherence to the implant. Therefore, this significantly reduces the risk of chronic infection, which can lead to the development of lymphoma over a number of years (typically between 3 and 14).
Technological advancements in cosmetic procedures mean B-lite breast implants are significantly more lightweight than other options and can be up to 30% lighter than traditional implants. Thus is due to the implants being filled with microsphere enhanced silicone gel, compared to other types.
This filling also increases the safety of this type of breast implants, as if there is a rupture at any point, the contents of the implant are less likely to leak into the surrounding tissue. This can be common in other types of breast implant.
Consequently, this can help with the effects of gravity on breast anatomy and can be better-suited for sports and activities. In addition, by reducing the strain on the surrounding breast tissue, B-Lite breast implants have the potential to reduce weight-related side effects, such as back and neck pain.
The new lightweight B-Lite implant is able to:
Reduce the gravitational effects
Reduce the detrimental effects on the breasts in the long term
Maintain optimum results for longer
Make movement more comfortable
- Smooth vs. Textured Breast Implants
To create the most desirable appearance for the patient undergoing cosmetic surgery, you can opt for smooth or textured implants. What is the difference between the two?
Smooth breast implants:
Softer than textured implants
Create a more natural look and feel
They are said to last longer than textured implants
They can shift in position over time
Rippling can be common (this is to do with how much breast tissue you have though, so differs from person to person)
Textured breast implants:
The texture sticks to the body's tissue, helping the implants to stay in the same position over time
Less likely to get scar tissue forming around the implant
Look and feel firmer than soft implants
Less natural movement
Higher risk of developing folds or wrinkling
Please note:Textured breast implants are shown to be linked to breast cancer in a number of studies. In 2019, textured breast implants were recalled for their link to anaplastic large-cell lymphoma (ALCL). 

Oncoplastic breast surgeon, Dr Neil Meulman, says: "I'd advise women with textured implants to monitor their breasts closely in the years after surgery in case anything changes."
- Advantages and Disadvantages of the Two Types of Breast Implant Fillings
Breast implants are available in different shapes (round and teardrop/anatomical), textures (smooth and textured) and sizes but they are also available with different fillings. Depending on the filling material, they can be divided into two types: saline and silicone breast implants.
Silicone Implants
Advantages:
More natural look and feel
Less likely to change position
Less likely to wrinkle
Disadvantages:
More expensive
In the event of a rupture, they can be very painful and change the size or shape of the breast
Larger incision
Saline Implants
Advantages:
Less expensive
In the event of a rupture, the leaking saline water is absorbed by the body without any adverse health effects
Smaller incision
Possibility to increase or decrease the size after the surgery
Disadvantages:
Less natural feel
More prone to wrinkling
Shorter lifespan
- Saline Vs Silicone Breast Implants in Depth
Both saline and silicone breast implants feature an outer shell which is made of silicone. But unlike silicone implants, their saline counterparts are filled with sterile salt water. Silicone breast implants, on the other hand, are filled with silicone gel. Both types of breast implants have a long history of use and both have been shown to give excellent results. However, silicone implants are said to feel, look and move more like a real breast. Also, they are less likely to change position than their saline counterparts.
Compared to saline implants, the silicone ones they tend to be more expensive. Also, in the event of rupturing, they can cause considerable pain, while silicone gel may spread outside the implant which in turn can lead to formation of lumps and change in the shape or size of the breast. However, it is also possible for a silicone implant to rupture without causing any problems whatsoever. Not immediately, anyway. This is because silicone gel may be contained by the tissue or membrane that eventually forms around the implant. But even if it doesn't cause any signs and symptoms, a ruptured silicone implant sooner or later needs to be surgically removed.
Saline breast implants can rupture as well. However, salt water leaking from a ruptured saline implant is simply absorbed by the body and doesn't present a risk of any health complications. But as saline water gets absorbed, the breast's size and shape will change. Also, the empty silicone shell usually needs to be surgically removed.
Compared to silicone implants, the saline ones are usually less expensive. And since they are inserted empty and filled with saline water later, their insertion requires a smaller incision. Another major advantage of saline implants over their silicone counterparts is that they can be adjusted after the surgery. If the patient is unsatisfied with the size, the latter can be increased or decreased without the need to go through surgery again. The surgeon can simply add or remove saline water with a syringe. According to most plastic surgeons and their patients, however, saline implants feel less natural and are more likely to wrinkle than their silicone counterparts. Also, they tend to have a shorter "lifespan" and need to be replaced sooner than the silicon-filled implants.
- How are Breast Implants Inserted?
Breast implants are often inserted surgically, while the patient is typically given general anaesthesia. In rare cases, breast implants are also inserted during local anaesthesia which means that the patient is awake during the procedure.
Another thing you must consider is where you want the breast implants to be inserted. A common question before breast augmentation is, "what will my scars look like?", but use of an experienced, qualified cosmetic surgeon will ensure that any incisions will be easily hidden and inconspicuous.
Plastic surgeons use one of the following incision techniques to insert your breast implants:
This involves a short incision being made in the crease underneath the breast, known as the "inframammary fold". This incision leaves an easily concealed thin, 1 to 2-inch scar within the crease.
This is often the preferred incision method as it includes a wider access point, allowing the cosmetic surgeon to place silicone implants of all sizes with precision.
The incision is made around the outer edge of the areola, in order for the scar to be located within its natural transition in pigmentation.
Cosmetic surgeons will often use this incision type if they are performing a mild to moderate breast lift procedure at the same time as the augmentation.
This involves a small incision being made within the armpit. The cosmetic surgeon will insert the breast implant using a specialised camera device and instruments to ensure the correct placement inside the breast.
This kind of incision creates a small scar within the armpit, whilst leaving no scar on the breast itself.
This technique involves an incision just above the belly button, where the implants are inserted and moved up to the breast area. This incision ensures a single scar with no scarring on the breast itself.
According to research, where you choose to have your incision is entirely your personal preference as each incision location is entirely safe.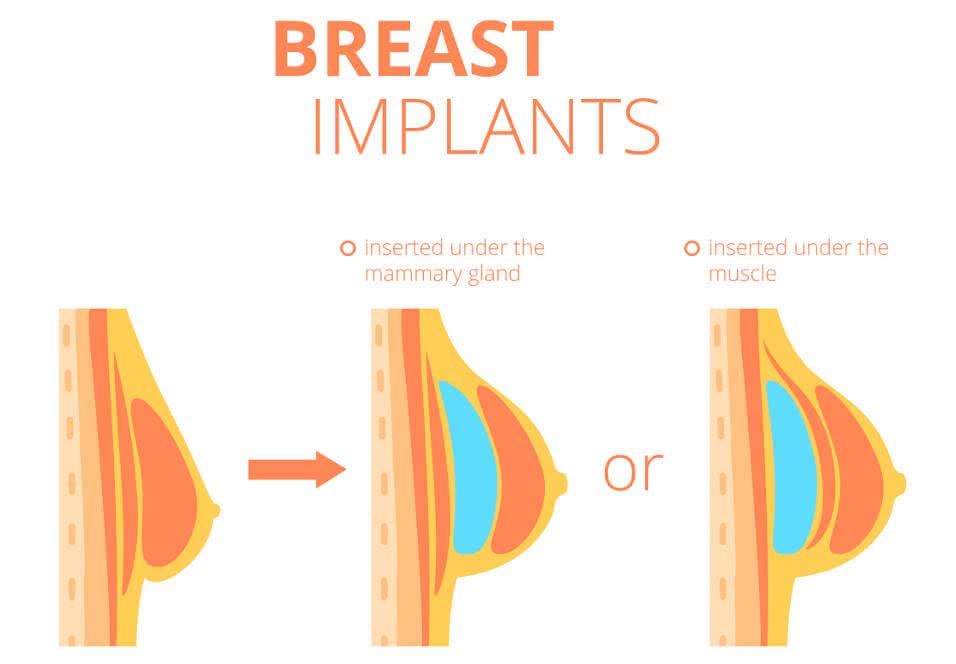 Photo Credit: OnBlast / Shutterstock
Each of the above mentioned breast implant placements has its advantages and disadvantages but in general, most cosmetic surgeons prefer the submuscular position. Compared to subglandular placement, it gives the breasts a more natural look, especially in women with small breasts. The subglandular position, however, may be an option for women with substantial breast tissue who are looking only for slight enlargement - but only if silicone implants will be used. To create a more natural shape and feel, saline breast implants are almost always inserted under the muscle.
Recovery
After breast enlargement surgery, you may be able to leave hospital on the same day or the next day, but due to the effects of the general anaesthetic, a responsible adult will need to take you home and stay with you for at least 24 hours. This is because side-effects from general anaesthetic commonly include:
Bruising around the area where you were injected or had a drip fitted
Confusion and memory loss
Difficulty passing urine
Dizziness
Feeling cold
Nausea and vomiting
Sore throat if you had a tube inserted to help you breathe
Post-surgery, you may feel pain around your breasts as the anaesthetic wears off, but this can be helped by taking painkillers, such as prescribed painkillers by the hospital or over-the-counter painkillers such as paracetamol. Your chest may also feel tight, your breasts and ribs may feel tender, and you're likely to have some swelling and bruising around the area – this is normal and may take a few weeks to subside.
As a result, it is advisable to take a week or two off of work, but this may depend on the type of surgery you have had. It is best to speak to your surgeon about this during your initial consultation, in order to prepare for this.
Most surgeons will tell you that it can take up to six weeks to get completely back to your normal everyday routine. For the first month after your breast enlargement operation, you must not take part in any strenuous exercise or lift anything heavy, as this may cause stitches to open and halt your recovery. It is also advised to avoid driving for at least a week post-op too.
Everyone's experience may be different depending on the type of implant and procedure carried out, but this is a rough outline of recovery after breast enlargement surgery:
Same day or next day – you'll be able to leave hospital and should take one to two weeks off work
One to two weeks – stitches removed (unless they are dissolvable)
One to two weeks – may be able to start driving again (check with your car insurance company)
One to two weeks – back to work, depending on the nature of your job
Six weeks – back to normal activities, including exercise
Six to 12 weeks – your breasts will start to look and feel more natural
Up to 12 weeks – wear a support bra for 24 hours a day
Up to one year – keep your breast scars out of direct sunlight
For more information read our guide to breast enlargement post-op care or speak to your surgeon.
Health Risks, Side Effects and Possible Complications
Studies on safety and health risks of silicone and saline breast implants didn't find any significant difference between the two types of implants. Neither silicone nor saline implants have been linked to increased risk of breast cancer or other serious health problems. Likewise, neither of the two types of breast implants interferes with the ability to breast-feed although some women report having difficulties breast-feeding after having breast augmentation or other cosmetic procedures involving insertion of breast implants.
Both silicone and saline breast implants can rupture. But while saline water gets absorbed by the body without causing any health problems, leaking silicone has to be removed surgically. Rupture of a silicone implant can cause pain and changes in the size and shape of the breast but no evidence has been found for it to cause any serious health problems. This, however, doesn't mean silicone or saline breast implants are without risks.
Health risks and complications associated with breast implants are very similar regardless of the filling material and include:
Bleeding
Infection
Allergic reaction to anaesthesia
Reduced sensation, which is most often only temporary
Breast pain
Scarring on the site of incision
Implant rupture/leakage
Capsular contracture (thickening and hardening of a protective membrane that forms around the implant)
After the procedure, it is normal to experience some swelling, soreness and bruising. Scar from the incision will eventually fade but it won't go away completely. However, since the incision is typically made in the fold under the breast, it is usually virtually unnoticeable.
What if Something Goes Wrong?
The risk of complications and unsatisfactory results is very low but unfortunately, there is always a chance of something going wrong. In the event you develop any problems or feel disappointed with the results of the surgery, you should first contact the surgeon who performed it or the clinic/hospital where the surgery was carried out. They seek to keep patient satisfaction levels as high as possible and usually do their best to resolve patients' complaints in a satisfactory manner.
You can also make a complaint to the General Medical Council (GMC) or/and report poor care to the Care Quality Commission (CQC) or other health care regulator if the procedure wasn't carried out in England. But resort to this option only if you feel that your complaint to the surgeon or clinic/hospital where the surgery was performed hasn't been properly addressed.
The Cost
The NHS may cover the cost of implants for breast reconstruction but it won't pay for breast augmentation and other corrective surgical procedures involving breast implants. If you want to have breast enlargement or improve the appearance of your breasts with the aid of silicone or saline implants, you will have to pay for the procedure including the implants yourself. You can also get finance and opt for other financial optionsthat will help you pay for your breast implants. 
If you decide to have the procedure in the UK, expect to pay at least £2,600 or more, depending on where you want to have it done and the extend of the surgery. Please note that this price may not include the costs of aftercare and consultation after the surgery nor corrective procedures that may be required if the results don't meet your expectations.
Table 1:Cost of Breast Enlargement in the UK
| Region | Lowest Price | Highest Price |
| --- | --- | --- |
| London (Harley Street) | £2,600 | £7,000 |
| South East England | £2,600 | £7,000 |
| South West England | £4,070 | £5,385 |
| Wales | £3,950 | £4,665 |
| East Midlands | £4,139 | £4,965 |
| West Midlands | £4,139 | £5,880 |
| East of England | £4,139 | £6,425 |
| North East England | £4,665 | £5,855 |
| North West England | £4,049 | £5,495 |
| Yorkshire and the Humber | £4,139 | £5,665 |
| Scotland | £3,675 | £5,050 |
Source: Private Healthcare UK
A large number of women also decide to have breast augmentation abroad. Just like in the UK, the prices tend to vary greatly not only between different countries but within particular countries as well. On average, however, the cost is considerably lower than in the UK. But when the cost of travel, accommodation and insurance is added, there is no longer such a dramatic difference.
Table 2:Cost of Breast Enlargement Abroad
| Country | Procedure Cost | Total Cost |
| --- | --- | --- |
| Poland | £2,200 | £2,606 |
| Czech Republic | £2,040 | £2,573 |
| Hungary | £2,193 | £2,627 |
| Lithuania | £2,263 | £2,733 |
| Turkey | £1,750 | £2,161 |
| Spain | £3,646 | £4,276 |
| Belgium | £1,995 | £2,688 |
| Thailand | £2,034 | £2,996 |
Source: Treatment Abroad
The Results
Good results can be achieved with both silicone and saline breast implants although the actual look and feel are not quite the same. As discussed in the section dealing with the two types of breast implants available, silicone implants tend to feel and look more like real breasts.
Neither silicone nor saline breast implants last a lifetime which means that the results are not permanent. The average lifespan of breast implants is 10 to up to 15 years. Afterwards, they need to be removed and replaced with new ones.
The actual size and shape of the breast may change after the surgery as a result of weight gain and/or weight loss as well as the effects of ageing. Women who are unhappy with the appearance of their breasts may need to have their implants removed and replaced. For optimal results, implant replacement is sometimes carried out in combination with other cosmetic procedures such as breast uplift.
Before and After Photos

Photo credit: Africa Studio / Shutterstock
Frequently Asked Questions About Breast Enlargement
Who is a suitable candidate for a breast enlargement?
Breast enlargement surgery is an option for women looking to enhance the size and shape of their breasts. Breast enlargement may be suitable for women:
Over 18 years old

Not currently pregnant or breastfeeding

Realistic with their expectations

Physically healthy

Emotionally prepared for surgery

Unhappy with the current look of their breasts
Please be aware that breast enlargement may interfere with the treatment of an infection, or an active cancer or pre-cancer. If this is you, avoid breast augmentation until it is deemed safe to do so by your doctor. Be sure to confide in your GP or a breast surgeon for more information, if required.
How long after pregnancy must I wait to have a breast enlargement?
If you have recently given birth, your surgeon may advise you to wait between three and six months before you have a breast enlargement. This is to allow the breasts to settle before your procedure. However, if you are breastfeeding your child, this may be longer, as most surgeons require you to stop nursing at least 3 to 6 months before surgery.
Do I need a GP referral for a breast enlargement?
Most cosmetic surgeons will see you for an initial consultation without a referral from your GP. It's worth noting that if you plan to go ahead with surgery, your surgeon may decide to contact your GP to find out your medical history.
Is a breast enlargement available on the NHS?
Cosmetic procedures are usually not available on the NHS. However, if you have had a lumpectomy or mastectomy for breast cancer treatment, you may be eligible for a breast reconstruction on the NHS. It is a good idea to speak to your GP about this, as each case will differ.
How long do breast implants take to heal?
Your stitches will be removed (or dissolved, if dissolvable stitches are used) around one or two weeks after your breast enlargement operation. You should be able to return to normal activities at around six weeks, with your breasts looking and feeling more natural from six to 12 weeks post-operation.
How much time do I have to take off work after a breast enlargement?
Depending on the nature of your job, how long you take off work varies. If your job includes physical activity, such as lifting items and moving around, you should aim to take at least one full week off, although it is advisable to take two to ensure you are healing properly. If your job does not involve a lot of physical activity, you may be able to take 4 to 5 days off work to recover. 
Despite this, in any case, avoid any physical activity for at least 1 to 2 weeks – this includes light duties too.
Do breast implants affect breast screening?
After breast enlargement, mammograms are unable to pass through the implant, resulting in some of your breast tissue not being visible. Thus, images of your breast tissue can be less accurate when screening for breast cancer.
As a result, when you attend a breast cancer screening, you will need to tell the mammography service that you have had a breast enlargement so they can take extra precautions to ensure the results are as accurate as possible. In some cases, they may decide to screen you at a different centre.
It is a common misconception that mammograms can cause breast implants to rupture. Mammograms are perfectly safe and are in place to help save your life, so please attend and inform the hospital of your procedure.
Will breast enlargement surgery affect my ability to breastfeed?
Breast enlargement surgery can be carried out in various ways, and some of which are more likely to preserve the ability to breastfeed. If you would like to breastfeed after healing, there are certain procedures that will make this more likely to prevent damage to the milk ducts and nerves in your breasts. These include:
Making incisions (cuts) under the breast or in the armpit
Having the implant placed under the chest muscle
In some rare instances, some women do find they have difficulties or are unable to breastfeed after a breast enlargement procedure. However, if you were able to breastfeed before your procedure, you will likely still be able to breastfeed after healing.
If this is something you are concerned about, be sure to discuss this with your surgeon in your initial consultation in order to decide the best breast enlargement procedure for you.
What do breast implants feel like?
Breast implants are designed to mimic the feel of natural breasts. Silicone gel implants, especially highly cohesive silicone gel, have a more natural feel than saline implants. For more information, read our section about the different types of breast implants.
What is the effect of drugs and alcohol on a breast enlargement?
Smoking, drinking large amounts of alcohol and/or taking recreational drugs, increases the risk of complications during and after surgery. As a result, surgeons strongly recommend that you stop smoking and using all nicotine products at least six weeks before your breast enlargement operation.
Do you have to replace breast implants every 10 years?
Manufacturers state that breast implants should last between 10 to 15 years, which is why many women find that they need further breast enlargement surgery after a decade. However, if you don't experience any problems, your surgeon may recommend you leave them in place for longer.
Reasons for further surgery can be down to series of reasons, such as:
Problems with the implant itself (e.g. capsular contracture or implant rupture)
To maintain their size and shape
To change the type of implant
What effect will weight gain or loss have after my breast enlargement?
As with the rest of your body, major weight loss or weight gain may affect the look of your breasts. The effect of weight loss or gain will, however, vary between individuals.
How will I know if my implant ruptures?
An implant rupture is when an implant splits or a hole appears in the shell. When this happens, the saline liquid will be absorbed by your body over a few days, making the breast look punctured. This will be easy to notice – once you are aware, your ruptured implant should be removed and replaced with a new one.
When a silicone implant ruptures, the gel may stay within the implant shell. If this happens, you may not notice unless you have a scan. However, some people experience pain, thickening, changes in shape of their breast and lumps (siliconomas) which are only detectable on scans. In these cases, you should contact your surgeon or GP and the implant will need to be removed.