Profhilo Skin Treatment
Published on: 15 Jul 2019, 3:44 p.m.

Medically reviewed by a licensed NHS consultant
Last updated: 15/08/2019
Get Free & Simple Pricing, Procedure & After Care Information from a Licensed Consultant Now

PhotoCredit: hedgehog94/Shutterstock
Profhilo skin treatments are non-surgical procedures frequently applied to the face, neck, breasts or hands to remodel, revitalise and rejuvenate aging skin. Invented in Italy, the treatment quickly gained traction within the UK in 2015 and has been popular ever since, with consultants, beauticians and therapists offering Profhilo as part of their portfolio. 
Profhilo is different from other dermal fillers despite being injectable. This is because the human body metabolises the hyaluronic acid used within Profhilo and these work coherently together, encouraging the production of natural collagen and elastin. Essentially, Profhilo skin injections seek to replace and renew the hyaluronic acid produced in young bodies to provide the illusion of more youthful and remodelled skin. Overall, it is highly regarded as a good tool for correcting skin laxity, provided it is administered by a qualified and reputable practitioner. 
---
Table of contents:
---
Deciding if Profhilo Skin Treatment is right for you?
Profhilo skin treatments are most commonly undertaken by men and women over the age of 30 suffering from saggy skin, wrinkles, and dehydrated, dull or sunken skin. This typically happens when the hyaluronic acid, collagen and elastin that our bodies produce when we are younger begins to disappear as we age, leaving aging skin looking tired, saggy and creased. Many adults feel self-conscious about these changes, especially when they are premature, and seek cosmetic procedures, like Profhilo skin injections. 
There is no upper age limit for this treatment and it is suitable for reversing and repairing many ageing symptoms. However, it is worth noting that for clients over the age of 60 suffering from more severe aging, the treatment may be either less effective or better when combined with various other treatments. This is largely due to elderly skin having deeper folds to penetrate. 
Who is the perfect candidate for this procedure?
The clinically approved treatment is ideal for individuals suffering from the following: 
Wrinkles (e.g smokers lines, frown lines, crows feet)

Saggy and excess skin

Dry, dehydrated skin 

Skin that has lost elasticity and shape 
Since Profhilo is an injection that mimics the body's production of hyaluronic acid, the treatments are far more subtle than other dermal fillers which create a more dramatic change and lift. Therefore, if you're looking for a subtle treatment that provides youthful and rejuvenating results, Profhilo might be perfect for you. 
However, if you're looking for a more drastic lift and remodelling treatment, you may want to look into derma fillers or finding more advanced surgical procedures to get your desired results. 
How does Profhilo work?
As our bodies age, we gradually produce less collagen and elastin naturally - the cells which provide skin firmness, strength and shape. Therefore, when the number of these cells drop or weaken, your skin loses its clean and firm shape, creating creases and wrinkles.
Profhilo treatments effectively stimulate the reproduction and replenishment of new collagen in the skin by slowly releasing hyaluronic acid - a natural substance produced by your body which is critical for skin hydration and nutrition. Unlike other treatments, Profhilo doesn't mask the imperfections, but instead gets to the core of remedying them by actively stimulating and encouraging your body to produce collagen and elastin. 
During Profhilo treatment, your desired body part will be injected with roughly 2ml of hyaluronic acid-based treatment in around five places. This is injected just below the skin layer where it quickly disperses and spreads throughout the skin, providing instant hydration. The treatment is typically administered over the course of two sessions, within a period of one month.
Finding the right Profhilo Skin Treatment consultant for you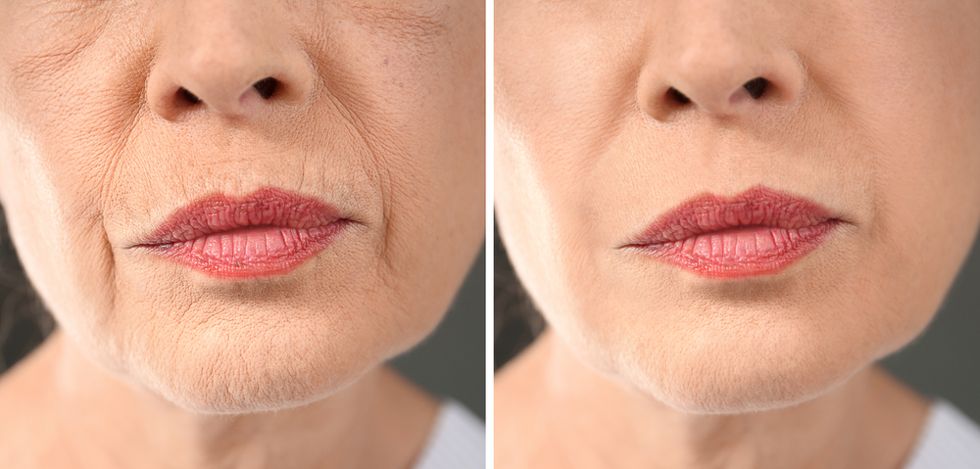 Photo Credit: Africa Studio/Shutterstock
Since Profhilo skin treatments are relatively new to the market, it is vital that you select a reputable and experienced practitioner to provide the treatment. 
Therefore, the first and perhaps most important stage of any cosmetic procedure is choosing the right person for the job. The best way to do this is to research a range of different clinics and consultants offering the treatment, and compare them to find the best treatment provider for you. 
Consultation
During a consultation, you should get to know the practitioner's work, ask to see reviews and examples of successful treatments, as well as getting an idea of how long they have been doing it, what qualifications they have in the treatment and how often they provide the service. All of this is a vital part of choosing a good consultant. The more frequently, successfully and legitimately they have provided the treatment to others, the better. It is also worth asking whether the consultant you have met is the same one providing the treatment, not somebody that is training or far inferior in terms of qualifications. 
The consultant should also discuss what you are seeking to achieve from the treatment. This might involve speaking about your current problem areas, insecurities and any other treatments you have trialled and either got on with or not. By doing this, your consultant should gain a better idea of how the treatment might benefit you. It also allows the consultant to envisage the changes the treatment might make to your skin and give you a vague idea of the results you might hope to achieve. 
The consultant should also discuss your suitability for the treatment, as well as make you aware of any risks and potential side effects, regardless of how major or minor these are. If you have any questions on this matter, you should ask and as an expert, the consultant should be able to answer these concerns or queries confidently. It might even be a good idea to write down any questions you have pre-consultation, just to be sure that you are not missing out on any important information. 
Things to discuss at your consultation
Your expectations - What you expect to achieve post-treatment. This can be anything from targeting specific wrinkles, a guaranteed lift in certain places or general rejuvenation. 

Where will the treatment be performed - It is important to understand where the treatment will be performed. More often than not, treatments of any kind should be administered in a clean, accredited and insured premises, particularly when the treatment involves injection. If you are getting the treatment injected into your cleavage, for example, you might ask about the availability of private spaces to do so. 

General questions about the procedure - It might be worth asking things like: Will it hurt? Do you use numbing cream? How long will it take in total? Should I do anything to prepare? 

Patient satisfaction records - Never be afraid to ask about how previous patients have reviewed the service and request a reference or recommendation from these. Often this can be in the form of social media posts, patient progress photos and general reviews, all of which is available online. 

Alternatives - Also consider asking about alternative treatments and request a comparison of these, just so that you get a better understanding of the treatments available and their compatibility with you. 

Results - It is also worth asking what is in place if something were to go wrong. For example, what recourse would be available to you if something went wrong during the treatment. What guarantee can they provide you if you are unhappy with the results? 

Moving Forward - It might also be a good idea to ask about the plan moving forward. How many treatment sessions are required, how often and what happens once the treatments stop being effective? 

Costs - It is vital to ask about pricing and packages when you have a consultation. This is because you want a clear and transparent quote for the treatment you are having, prior to having it. This is good when comparing deals from other consultants but also good to ensure you aren't later hit by an unagreed charge. 
Post-consultation decision 
Following a consultation, each clinician should collaborate with you to find the best treatment timing, plan and goals for you. This can involve anything from where you will be injected with the treatment, how frequently and what to expect on the day. Comparing these plans might help you understand which consultant's treatment suits you the best and fits well around your desires and routine. 
Regardless of which clinician you choose, you should always check reviews, accreditation, insurance and qualifications to ensure that they are a reputable treatment provider. Failing to do so might leave you either scammed or potentially put your health at risk. 
What can I expect during the procedure?
Pre-treatment
Prior to having Profhilo skin treatments, you are advised to refrain from indulging in alcoholic drinks for at least 24 hours before the procedure begins. You are also strongly advised against taking aspirin or anti-inflammatory medication, unless these are necessary to treat chronic medical conditions. The clinician will provide numbing cream to prevent any pain being felt by you, so any further painkillers are unnecessary. Taking these might increase the possibility of temporary bruising. 
When asked, your consultant should provide a more detailed list of pre-treatment requests to ensure you are fully prepared. 
The procedure itself 
At the start of the actual treatment, the consultant will apply numbing cream on the desired area to make the experience more comfortable and virtually painless. In the first session, the doctor will mark up the points to be injected, and then inject the first 2ml of Profhilo treatment at 5 separate injection points on each side of your face. If you are having the treatment injected to other body parts such as your neck, your cleavage or your hands, then the procedure will be similar. 
You should expect to hear this method called BAP (Bio Aesthetic Points). The BAP technique was specifically designed for the Profhilo treatment using Computed Tomography scanning technology to determine how the treatment would best spread throughout the facial tissues for the safest and most optimal results. The points are specifically mapped to be clear of major arteries, veins and nerves for extra safety. 
How many treatments are necessary?
Within the practice, it is widely recommended to have at least two Profhilo skin treatment sessions in order to see the most optimal and pronounced results. Within an interval of 4 weeks, doctors recommend having 4ml worth of treatment altogether, with two treatments and 2ml injected during each. 
However, for more mature and aged skin, practitioners may recommend an additional session to reverse any stubborn aging symptoms or prominent skin problems. Alternatively, some practitioners will recommend increasing or doubling the dosage to 8ml of Profhilo treatment over the course of the month, with each session injecting 4ml. Yet this is something you can discuss and be clear with your practitioner about during your consultation, since it is up to you which results you are aiming for, the budget you have and whether you would like further treatment. 
Once the initial two or three sessions are finished to complete the treatment, you may want to top up the treatment every 6 months as this is when the results begin to wear off. This is something that, again, it is best to discuss with a practitioner during your initial consultation and when drawing up a comprehensive treatment plan.
How long does the treatment take to do?
Profhilo treatment takes around 30 minutes to be completed, per session. During this half an hour period, the practitioner will apply numbing cream, mark out spots for injections and will inject your area of concern in five places for widespread and more effective treatment. Generally, the procedure is quicker than most beauty procedures and is relatively comfortable.
Recovery
Since it is not major surgery, there is no downtime required for recovery after the treatment. However, it is largely advised that you refrain from applying cosmetics, becoming excessively sweaty and oily for a few days post-treatment for the best results. This means avoiding saunas, the gym and make up for a couple of days post-treatment in order for the product to settle into your skin. 
It is not unusual for you to experience some extent of swelling and bruising over the few days that follow the treatment. This is because of the body's natural response to the needle and injection, as with any clinical or non-clinical injections or harm to skin. In the event of brushing, it is advised to stay away from harsh sun for a few days. 
It is recommended that you avoid frequently touching the targeted area and that you don't engage with intense exercise for at least a day since this will risk displacing or interfering with the Profhilo treatment - which will reduce effectiveness.
Although you are still able to get further cosmetic treatments on that area alongside the Profhilo treatment, we recommend not doing so until at least 2 days after the treatment is complete since this may also affect the treatment's functioning.
Aside from these restrictions, Profhilo is a non-invasive procedure and therefore allows you to return promptly to your daily routine, so long as you follow that advice. 
Potential Side Effects
Contrary to many other injectable fillers, hyaluronic Acid is relatively unproblematic and well tolerated by the human body because our bodies naturally produce hyaluronic acid anyway, so higher levels of the acid do not trigger many potential side effects, and no long-term side effects. This is because the body metabolises and welcomes the treatment. 
Thus far, mild swelling and bruising are among the only reported side effects associated with Profhilo treatment, which are both a natural consequence of injection. Even so, these symptoms often disappear within a few days and are no cause for alarm whatsoever. It is important to recall that any side effects suffered from this injection, if correctly applied, are actually from the fine needle used to insert the treatment, not the treatment itself. 
It is also highly unlikely that individuals will have an allergic reaction to the treatment since Profhilo is free from synthetic chemicals and is only based upon natural body acids. As a result, no allergy tests are required prior to treatment. 
With that in mind, if you find that your are suffering any of the following side effects, we strongly advise that you contact your doctor immediately and seek urgent healthcare or advice. These include: 
Worsening swelling (when your injection sites become gradually more swollen as time passes)

If you suffer a severe growing pain 

Red, pigmented and hot skin

Injection spots looking discoloured following the treatment after at least a day. Be wary of pale or grey discolouration. 

General sickness, such as nausea, dizziness, frequent pain ect 
Everybody is different, so it is important to address any of the above side effects before these result in further and lasting damage. However, this is among the safest aesthetic treatments available, with a very low chance of adverse reactions. 
What results should I expect to see?
It is difficult to predict exactly what results you will achieve from this treatment since everyone is different and everyone's bodies act differently. Broadly speaking, however, you should expect to see a smoother, clearer and more youthful complexion, with minimised wrinkles, creases and wear. It usually also makes skin look shiny, healthier and more plump - as many fillers do. The results will likely be less dramatic than some other, more invasive fillers and surgery, but still noticeable. 
How long do the results last?
Generally speaking, the results of Profhilo treatments can last up to roughly 6 months, however, this may vary by patient - particularly depending on skin type and age. The Profhilo treatment can work independently as a treatment on its own or in combination with other cosmetic treatments, namely because it is a natural product that is being injected. 
After this six month period or when you begin to see the treatment's effects wearing away, it is recommended that you can top up treatments if you wish to continue. 
How much does Profhilo Treatment cost?
The recommended minimum price for a single treatment is around £400 for a single treatment of 2ml, a price which doubles when you have the set of two sessions to complete the treatment. However, some practitioners do offer the treatment starting from as low as £250 per treatment.
With that in mind, it is worth noting that you should opt for the most reputable and experienced practitioners on the market, not necessarily always the cheapest. Prices can vary considerably depending on where you get it done, how much you require and the experience of the practitioner. It is always important to clarify prices and deal with the consultant beforehand, and get this in writing somehow.
Comparison of Treatments
Profhilo Vs Dermal Fillers
Dermal fillers are a popular treatment used to add volume and dimension to specific facial features. Most commonly, dermal filler is injected into features such as the cheeks, lips and chin of clients to enhance or modify certain features and improve confidence. Since dermal fillers are used to alter the face, not necessarily youthen it, dermal fillers are increasingly popular amongst young adults.
Meanwhile, Profhilo is a broad and more subtle treatment which is injected and then disperses throughout your skin tissue. The remodelling substance itself is far less thick than that of dermal fillers and it spreads throughout the face, which dermal fillers do not. By targeting the entire face, it creates a wholly more youthful and rejuvenated look, thus making it more appropriate and popular amongst the aging population. For this reason, Profhilo offers a more subtle alternative to dermal fillers. 
| | |
| --- | --- |
| Similarities | Differences |
| Both dermal fillers and Profhilo are injectable treatments and can be administered by trained practitioners. | Profhilo targets the entire face or can be used on other problem areas such as the neck, hands and cleavage area. Whereas, dermal fillers target a specific facial feature |
| Profhilo and dermal fillers are both charged at similar prices and require regular top ups | Profhilo seeks to replenish and hydrate the skin itself and improve skin quality. Meanwhile, dermal fillers are used to add depth, dimension and shape to certain facial features. |
| Dermal fillers also contain Hyaluronic acid, which is useful for combating aging processes. This is the main ingredient in Profhilo treatments. | Dermal fillers are very popular amongst the younger generations, meanwhile Profhilo is specifically designed to combat aging so attracts the older generations. |
|   | Dermal fillers are far more dramatic in what they achieve since they can drastically change and remodel a facial profile. Comparatively, Profhilo improves the look of skin. |
Can you have Profhilo Treatments if you have Botox and fillers?
Yes, it is possible and safe to have Profhilo treatment if you already have or plan to get Botox and other dermal fillers. This is the case because Profhilo is a natural acid injection and these work well (often even better) alongside other treatments since Profhilo treatments are designed to improve the condition of your skin, not relax muscles or add volume in certain areas. As a result, these are compatible. 
Do Profhilo treatments hurt?
Profhilo skin treatments don't really hurt much at all. The doctor that is completing the treatment will typically use numbing cream to prevent any pain at all. Other than that, it is just a small prick with a needle, as many treatments are! 
What is hyaluronic acid?
Hyaluronic acid is renowned as a super ingredient amongst beauty brands and is commonly referred to as the secret behind flawless, youthful and hydrated skin. It is a sugar created naturally by our body and within our skin which carries water and produces a plump, refreshed look for human skin.
How long does Profhilo take to work?
Although Profhilo treatments can instantly rejuvenate and hydrate skin, it typically takes 4 to 6 weeks to work properly since the treatment injected requires some time to spread and trigger collagen and elastic production within your body. Since everybody is different, the time can vary between a month to two months.
How long does Profhilo last?
Generally speaking, the results of Profhilo treatments can last up to roughly 6 months, however, this may vary by patient - particularly depending on skin type and age. The Profhilo treatment can work independently as a treatment on its own or in combination with other cosmetic treatments, namely because it is a natural product that is being injected. 
Are post-injection massages necessary?
No, post-injection massages are not necessary to spread the treatment throughout the facial tissue since this occurs naturally through facial and muscle movements. 
Which areas are treatable with Profhilo?
Profhilo is a very flexible treatment and it can be injected in most body parts, including those that are typically difficult to inject. It is most frequently injected into: 
Cheeks

Temples

Forehead

Hands

Arms

Neck 

Elbows

Knees
Is Profhilo a dermal filler?
No, Profhilo is not a dermal filler. Dermal fillers are used to plump lost volume in the face, but Profhilo is far less dramatic and seeks to rejuvenate skin and encourage the production of greater elastin and collagen, not reshape facial features. 
Are Profhilo Treatments safe?
Profhilo treatments are among the most safe remodelling treatments available owing to the fact that Profhilo is very biocompatible as it is not mixed with other chemical agents and is made from an acid that is naturally produced and stabilised by our bodies anyway. It carries a high concentration of hyaluronic acid, which means it bears little risk, if any to those that have the treatment.
Is this treatment available under the name of something else?
This specific treatment is not available under the name of something else, so it is worth avoiding duplicate versions of Profhilo treatments. Profhilo is a patented technology which the unique chains of hyaluronic acid each containing varied molecular weights, meaning the treatment itself is very specific and designed to replicate the unique structure of the natural product. This intricate and approved design is likely far safer than duplicate treatments, so always look for the official Profhilo treatment.