Nose Reshaping (Rhinoplasty)
Published on: 6 Nov 2017, 2:40 p.m.

Medically reviewed by a licensed NHS consultant
Last updated: 15/08/2019
Get Free & Simple Pricing, Procedure & After Care Information from a Licensed Consultant Now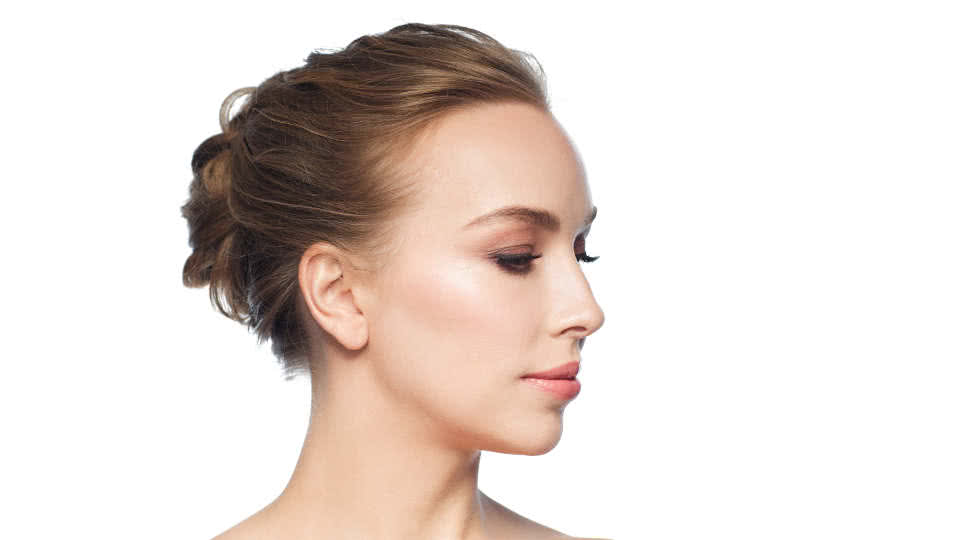 Photocredit: (Syda Productions)/Shutterstock.com
Also known as nose job or rhinoplasty, nose reshaping is a cosmetic surgical procedure which changes the shape or/and size of the nose. Most men and women who decide to have a rhinoplasty want their noses to be smaller but some also seek the procedure to make the nose larger. Besides for cosmetic reasons, nose reshaping is sometimes also carried out for health reasons. In the latter case, however, it is considered a reconstructive rather cosmetic surgery.
Why It's Done?
The majority of men and women want to have a rhinoplasty because they are not happy with the size or shape of their nose, or both. By altering the size, width or/and shape – including the bridge, tip of the nose and nostrils, patients seek to improve the appearance of their nose and by doing so, achieve a more attractive look. Some people, however, also want their noses to be reshaped due to an injury or functional problems causing health problems such as breathing difficulties.
Nose job can be done at any age after the age of 16 years when the nose stops growing. However, most surgeons recommend minor patients to wait until the age of 18 or ask for parental consent to carry out the procedure at a younger age.
The Procedure
Several procedures can be used to achieve the desired size and shape of the nose or/and correct structural problems causing breathing difficulties. Depending on the desired outcome, the surgeon may suggest one of the following procedures:
If you think that your nose is too big, the surgeon will probably recommend you a nose reduction surgery to make it smaller and improve the overall facial balance. To reduce the size of the nose which involves removing a part of the bone and cartilage, the surgeon may use one of two techniques. The first, known as closed rhinoplasty involves making incisions inside the nostrils which means that the operation will leave no visible scars. The second technique is called the open rhinoplasty and foresees making an incision on the outer side of the nostrils. As a result, open rhinoplasty leaves some visible scarring although it is usually very discreet.
Nose augmentation (enlargement).
Though most people who seek rhinoplasty think that their noses are too big, some men and women aren't happy with the appearance of their noses because they consider them too small. In this case, the surgeon will recommend nose augmentation or nose enlargement which is done by reshaping the bone and cartilage, and sometimes the use of a graft or transplant of a part of cartilage from the ear and bone from the hip, rib, skull or elbow. It is also possible to use synthetic grafts but most surgeons prefer the patient's own cartilage and bone as they are less likely to cause complications.
Besides making the nose smaller or larger, rhinoplasty can also be performed to change its shape, remove the hump, reduce width or/and length, reshape the tip and open the nostrils to relieve breathing difficulties. The technique will depend on the part of the nose that is treated and may involve breaking and reshaping the bone, removing a part of the cartilage and repositioning the nasal bone, to mention a few.
Regardless of the procedure used and the area of the nose treated, rhinoplasty is normally done under general anaesthesia. The procedure itself lasts from 1 to 3 hours or more, depending on the extent and type of the procedure.
The Results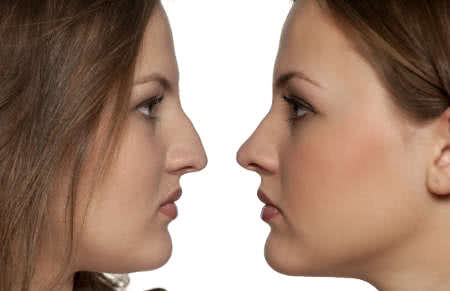 Photo Credit: Vladimir Gjorgiev/Shutterstock.com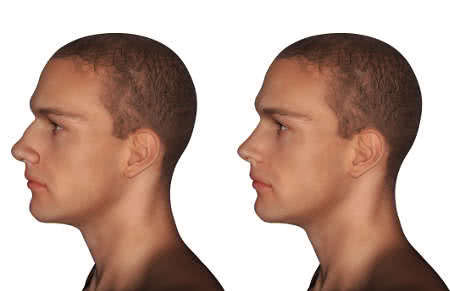 Photo Credit: Vladimir Gjorgiev/Shutterstock.com
The results of rhinoplasty are permanent but they usually aren't fully noticeable for several months after the procedure due to the swelling that may persist up to half of a year. Most patients are happy with their nose job although it may take some time to adjust to the "new" nose which can dramatically change the appearance and according to some patients, the character of their face. Those who had a nose job for health reasons can also expect improved breathing but only after a week or two as much as it takes for the swelling from the surgery to subside.
Side Effects and Possible Complications
After having a nose job, it is completely normal to experience the following side effects:
Swelling, bruising and pain

Difficulty breathing through the nose (blocked nose)

Numbness

Light bleeding from the nose which can last several days
All the mentioned side effects resolve on their own and don't need any special treatment other than rest and perhaps painkillers to relieve the pain. However, they can sometimes persist for weeks or even months before going away completely.
Like any other surgical procedure, rhinoplasty also carries a risk of complications including:
Heavy bleeding

Infection

Severe reaction to anaesthesia

Blood clot
Additionally, nose reshaping can also lead to:
Permanent breathing problems

Severe nosebleeds

Changed sense of smell
Although rhinoplasty is supposed improve the appearance of the nose and by doing so, improve facial attractiveness, the results don't always meet the patient's expectations. In this case, a revision surgery may be necessary. However, bear in mind that risks and disadvantages are present in all cosmetic surgery procedures.
Is Nose Reshaping (Rhinoplasty) Right for You?
You are a good candidate for rhinoplasty if:
you are unhappy with the size or/and shape of your nose

you have a disfigured nose due to an injury or underlying medical condition

you have breathing difficulties or other health problems such as obstructive (OSA) sleep apnoea
and
are older than 16 years and in good health
Besides making your nose smaller or larger, rhinoplasty can also correct your nose's length, width, tip and bridge (hump). But it can also reconstruct the nose after an injury, congenital malformation or disfiguring medical condition and improve/facilitate breathing by opening up the airways.
The Cost
Nose reshaping normally isn't available on the NHS but there are other financial options which you could consider. However, if you have nose malformation due to an injury, congenital abnormality or underlying medical condition, or have breathing difficulties, you may be considered for rhinoplasty on the NHS. This is because in the mentioned cases, rhinoplasty is considered a reconstructive procedure.
If you're unhappy with the appearance of your nose but don't have any health problems, you will have to have the nose job done privately. The procedure is available across the country, while the prices range from £2,540 to up to £6,485. Please note that this are only rough guidelines just to get an idea about the cost.
Table 1: Cost of Nose Reshaping (Rhinoplasty) in the UK
| Region | Lowest Price | Highest Price |
| --- | --- | --- |
| London (Harley Street) | £4,150 | £4,173 |
| South East England | £2,550 | £5,740 |
| South West England | £3,845 | £4,732 |
| Wales | £2,833 | £4,860 |
| East Midlands | £3,720 | £6,485 |
| West Midlands | £3,928 | £5,275 |
| East of England | £3,600 | £5,272 |
| North East England | £4,685 | £4,983 |
| North West England | £3,585 | £5,040 |
| Yorkshire and the Humber | £2,702 | £5,220 |
| Scotland | £3,570 | £4,430 |

Source: Private Health UK
You can also have your nose done abroad for a lot less money, depending on how far you are willing to travel. Some countries are more than two times as cheap as the cheapest clinics in the UK even with the cost of travel, accommodation and insurance included. However, having a surgical procedure abroad – and nose reshaping is a surgical procedure – can be very risky. If you decide to have a rhinoplasty abroad, you are highly recommended not to choose a surgeon/clinic based on the price alone. Also, keep in mind that having a nose job abroad can turn out very expensive if you develop complications after the procedure or need a revision surgery due to the unsatisfactory results.
Table 2: Cost of Nose Reshaping (Rhinoplasty) Abroad
| Country | Procedure Cost | Total Cost* |
| --- | --- | --- |
| Poland | £1,214 | £1,606 |
| Czech Republic | £600 | £1,127 |
| Hungary | £1,843 | £2,317 |
| Lithuania | £1,563 | £2,056 |
| Turkey | £1,514 | £1,968 |
| Spain | £2,418 | £3,056 |
| Belgium | £2,710 | £3,604 |
| Thailand | £1,305 | £2,269 |
*includes the cost of the procedure, travel, accommodation and insurance
Source: Treatment Abroad
Finding a Surgeon for Nose Reshaping (Rhinoplasty)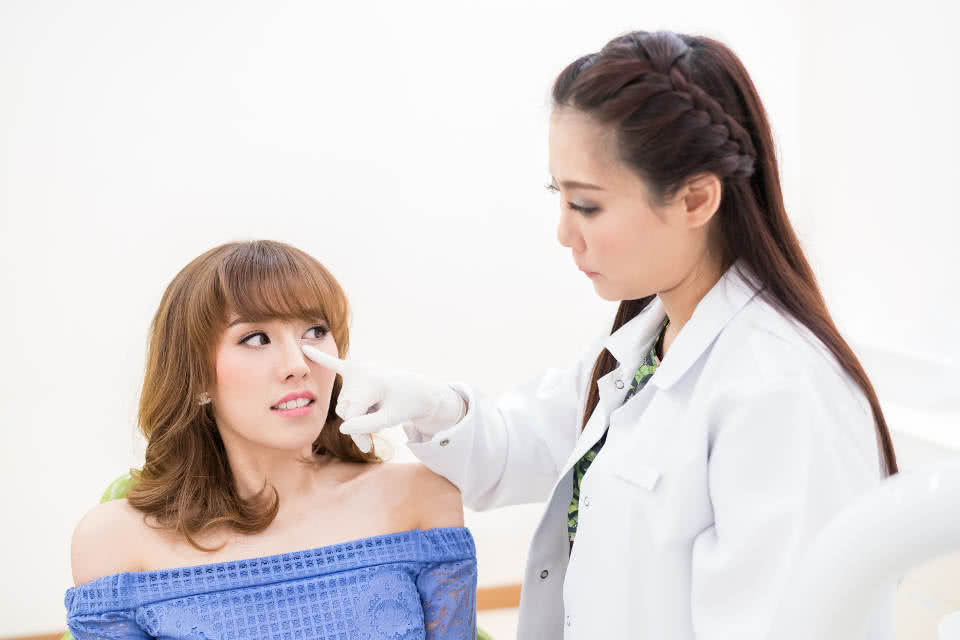 Photo Credit: praphab louikaroorasert / shutterstock
Before you start to search for a surgeon for nose reshaping, you are advised to talk to your GP. Tell them why you want a nose job and what you expect from the surgery. In addition to telling you whether rhinoplasty is a good idea based on your expectations, they will also tell you whether it's safe for you based on your medical history and your current health status. But they may also recommend you a good surgeon.
Besides asking your GP to recommend you a surgeon, it is also a good idea to make a research on cosmetic surgeons yourself. Don't hesitate to use the Internet which is probably the easiest way to look for a surgeon for any cosmetic procedure. But before arranging any appointments, you are highly recommended to make sure that the surgeon is registered with the General Medical Council (GMC). You are also recommended to make a thorough research on their experience and expertise. Check if the surgeon is a member of the British Association of Aesthetic Plastic Surgeons (BAAPS) or British Association of Plastic Reconstructive and Aesthetic Surgeons (BAPRAS). Also, try to get in contact with their former patients to get the first hand information and narrow down the selection which can be overwhelming if you don't mind having a nose job outside your local area.
Questions to Ask and Things to Pay Attention to When Choosing a Surgeon for Nose Reshaping (Rhinoplasty)
To make your choice of a surgeon for nose reshaping easier, you are recommended to ask for a consultation appointment with several surgeons. But since you will probably have to pay for it, don't make an appointment unless you really think that the surgeon has the qualifications, experience and expertise to meet your expectations.
In addition to meeting the surgeon who is going to perform the procedure if you decide to go through with it, consultation appointment also enables you to get more information about both the surgeon and the procedure including its risks and benefits. You are recommended to take advantage of the appointment to ask questions which will help you choose a surgeon for rhinoplasty:
1.Are you going to perform the surgery?
2.What qualifications do you have?
3. How many nose jobs have you done?
4.Which nose reshaping procedure you are going to use?
5. Are there other techniques and what are their advantages and disadvantages?
6.Can you tell me your patient satisfaction rates?
7.What are the risks of the procedure?
8. Will you provide care/treatment if I develop any post-operative complications?
9.What if I'm not happy with the results?
10.How much the procedure will cost? Will there be any additional costs?
Remember that a good surgeon won't only be happy to answer any questions you may have but they will also encourage you to do so. Likewise, they will be happy to provide additional explanation if they think that you perhaps didn't understand everything. Last but not the least important, a good surgeon will encourage you to take some time before deciding whether they meet your expectation and if you want to go through with the procedure in the first place.
What if Something Goes Wrong?
The goal of every cosmetic surgery is to help the patient achieve a flawless look by correcting the part(s) of the body they are not happy with. However, cosmetic procedures don't always bring the desired results. And although the risk is low, it is possible to develop complications. In both cases, you should first see the surgeon who performed the procedure to evaluate the complication and tell you what can be done.
If you think that poor results/complication are due to surgical error or/and worry about the quality of care, you can make a complaint to the General Medical Council (GMC) or/and report poor care to the Care Quality Commission (CQC).