Vaser Liposuction
Published on: 20 Feb 2019, 4:02 p.m.

Medically reviewed by a licensed NHS consultant
Last updated: 15/08/2019
Get Free & Simple Pricing, Procedure & After Care Information from a Licensed Consultant Now
TABLE OF CONTENTS
What is Vaser Liposuction?
VASER: Vibration Amplification of Sound Energy Resonance. In simpler terms, this means that the Vaser Liposuction treatment uses a form of ultrasonic technology that, first, liquefies and then eradicates stored and unwanted fat from the desired areas of the patient. Vaser Liposuction only focuses on the fat cells which means that it's not as invasive as traditional liposuction and causes less damage to tissues. This is a more favourable technique for some as it is less painful, has less 'downtime' and the results are available with much less bruising.  
Vaser liposuction was first introduced in the USA and later launched in the UK and various other countries. It is a newer and revolutionised version of traditional liposuction, due to its innovative fat removal technique.
Why is it Done?
Vaser Liposuction procedures can be done for both men and women. This procedure is done in order to remove fat and provide patients with a more toned and refined figure through a surgical technique that is much less invasive than some other fat removal procedures.
It is also a more accessible and suitable procedure for those who are not very overweight but simply wish to get rid of stubborn fat that may have accumulated. Vaser Liposuction has been suggested for individuals who already live a healthy and active lifestyle and less for those who are over-weight and struggle to keep weight off. Other forms of surgery may be better for those individuals, such as Gastric Band surgery or Sleeve Gastrectomy. Be sure to speak to a surgeon and do your own research to be further informed about the procedure that is right for you, as there are many patients who aremisinformed about cosmetic surgery procedures.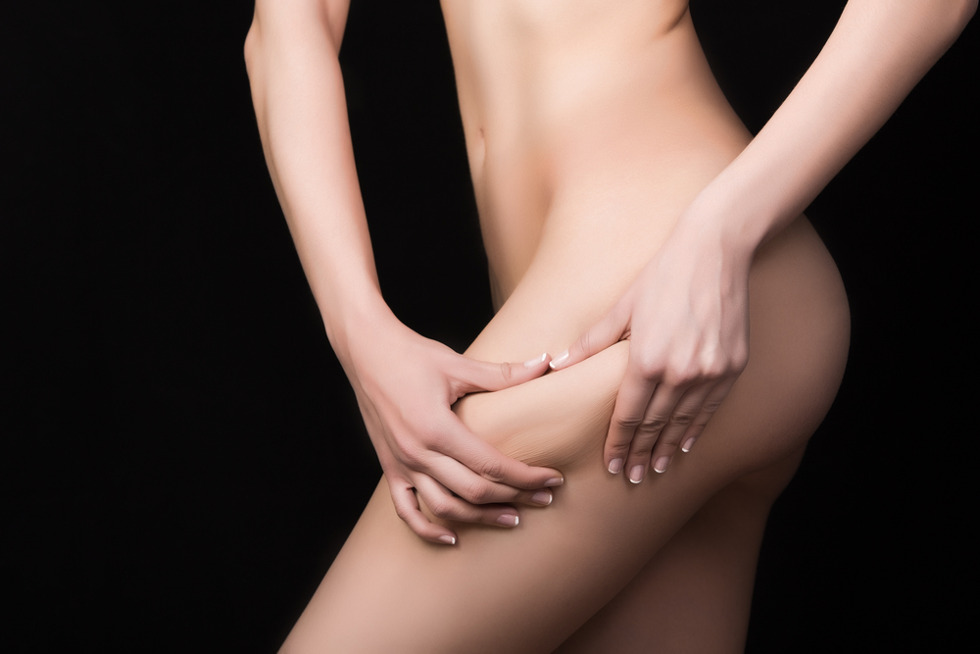 (PhotoCredit: eldar nurkovic/shutterstock.com)
Which 'Problem' Areas can be Treated?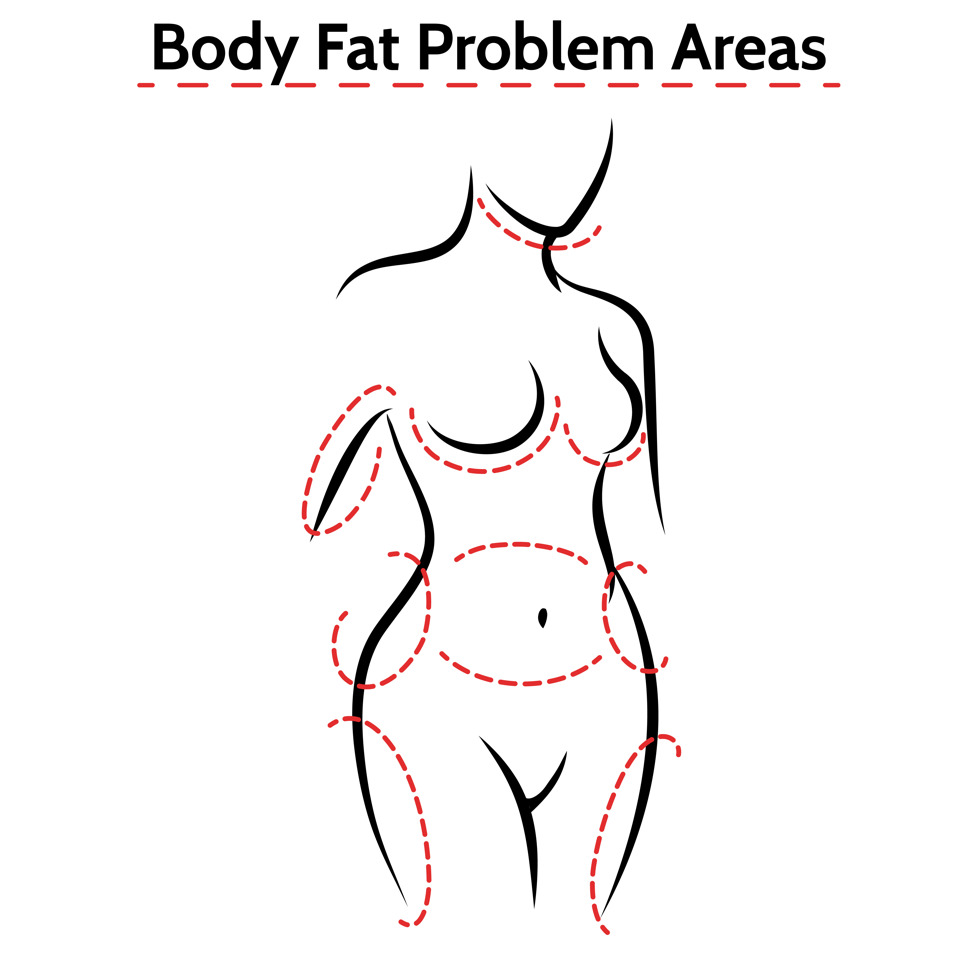 There are many areas on the body that can be treated with Vaser Liposuction. The areas include:
Chest

Waist

Arms

Abdomen

Back

Chin

Jaw-line

Buttocks

Knees

Ankles

Calves

Outer Thighs

Inner Thighs
(PhotoCredit: vectortatu/shutterstock.com)
What is the Procedure for Vaser Liposuction?
At the beginning of the liposuction procedure, patients are given local anaesthesia (for smaller 'target' areas), general anaesthesia or conscious sedation during the surgery (for larger areas). The Vaser ultrasound technology distinguishes the fatty tissue from other tissue surrounding the target area. This means that nerves, blood vessels and connective tissue are not affected by this procedure.
Vaser successfully liquifies fat and then extracts it through suction via a cannula, while simultaneously conserving other tissue that surrounds the area. Therefore, delivering results which are less painful and have a fast recovery time, in comparison to more invasive procedures.
What is the Difference Between Vaser Liposuction and Liposuction?
The two procedures are quite different, regarding the areas that can be treated, the recovery time, the invasiveness of the procedures as well as the recovery time. Outlined below are the clear differences between Vaser Liposuction and Surgical Liposuction.
Surgical Liposuction
Surgical liposuction mainly focuses on larger 'problem' areas such as the stomach, thighs and hips. The procedure is carried out with general anaesthesia as it is a more invasive type of procedure because it involves making incisions in the body. The procedure can take up to 3 hours, but you may be in the facility up to 7 hours. One of the good things about this surgical procedure is that it can remove much more fat than Vaser Liposuction. However, recovery time is considerably longer, and you could be off work for a period of around 2 weeks.
Vaser Liposuction
Both surgical and non-surgical Vaser Liposuctions are available, depending on which you prefer and how much fat you wish to remove from parts of your body. Both are minimally invasive, in comparison to the traditional Liposuction procedure. Vaser Liposuction's main difference is that it utilises ultrasound technology to exclusively target the fat cells without affecting the surrounding tissues. This means that there is less bruising and scarring after the procedure, making it a less painful process – during and after the procedure. Furthermore, the downtime is significantly less – you could be back to work and doing your daily routine 3-7 days after the procedure. In addition, during one surgery you are able target multiple areas, which is not possible with surgical liposuction.
Before and After Vaser Liposuction
After the Vaser Liposuction procedure you can expect to see results after around 6 weeks.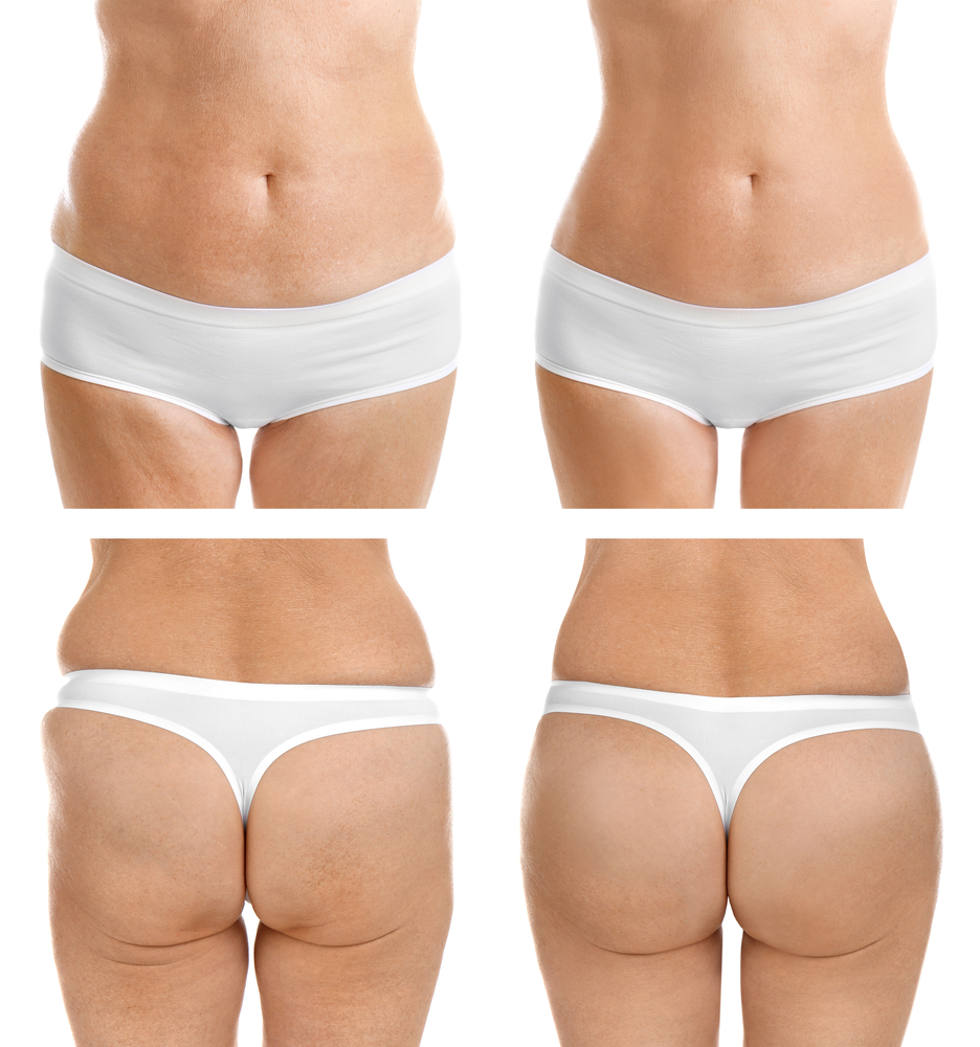 (PhotoCredit: Africa Studio/shutterstock.com)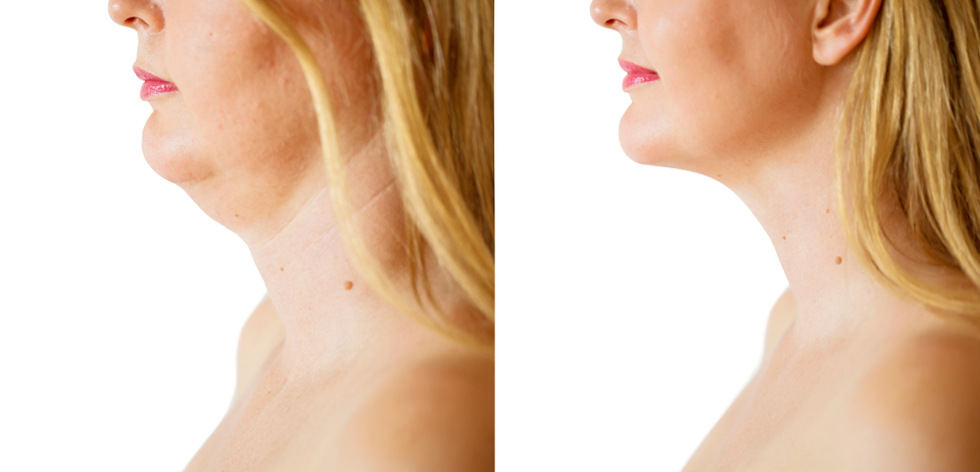 (PhotoCredit: Kaspars Grinvalds/shutterstock)
It's important to bear in mind that your results willnot be permanent if you don't stick to a healthy and active lifestyle. Your newbody/looks will only remain if you look after yourself, physically. Vaser Liposuction is designed to give you a little boost and to getrid of stubborn fat that you can't get off easily through exercise healthy eating. So, if you do not maintain results, they will not be permanent.
Vaser Liposuction Risks and Side Effects
There are  advantages and disadvantages of all cosmetic surgery procedures, and this procedure doesn't come without risks.
Even though Vaser Liposuction is an advanced version of liposuction, in comparison to other traditional and more invasive liposuction procedures, there are still some problems that could occur during and after the procedure. Although they are rare, you must know about the negative side effects that come with Vaser Liposuction. These problems include:
Not being happy with the results that the procedure provides.

Results may not last if you don't stick to a healthy way of living.

There is a risk of infection.

In severe cases, there could be some serious bleeding.

Risk of developing fat clots or blood clots.

Due to the fluid loss during the procedure, you may get low blood pressure, a fluid build-up or friction burns.

There is a chance that the ultra sound technology may damage some tissues or the skin's surface.
Is Vaser Liposuction Right for You?
Vaser Liposuction will not help you lose weight or even keep it off. You must already be sticking to a healthy and mindful lifestyle. This procedure will have major effects for those who look after their body – but those who do not, will not achieve lasting results.
So, if you know that you tend not to eat very healthily – be wary that your results will not be permanent, unless you change your food and exercise habits after the surgery. Vaser Liposuction will simply aid you in getting rid of stubborn fat that you can't get rid of through your daily routine and smart eating. As well as this, the Vaser procedure will not only get rid of unwanted fat, but will also make your physique much firmer and toned.
Vaser Liposuction is available to both, men and women.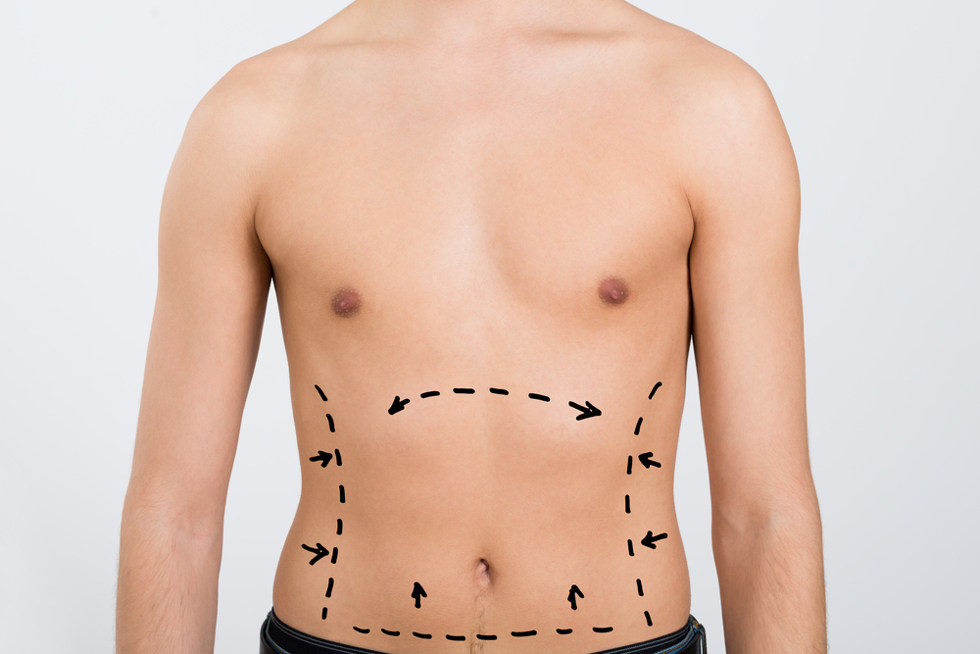 (PhotoCredit: Andrey_Popv/shutterstock.com)
How much is Vaser Liposuction?
The cost of Vaser Liposuction, like any other procedure, varies greatly depending on the area(s) of the body that you wish to treat, the surgeon, and the location where you choose to undergo the procedure.
The prices for Vaser Liposuction can range from £1,900-£9,000 in the UK. However, you will be able to get a more precise figure when you have a consultation with a surgeon, who will explain the procedure step-by-step and get an idea of what results you are aiming for.
Another popular option for many who would like to get a cheaper quote for Vaser Liposuction, goabroad. There are, of course, benefits and disadvantages to this that you should consider before flying abroad for any surgery. Prices in countries such as Prague vary from £2,160 (treatment for 1-2 areas) to £3,210 (for 4 areas of the body).
Finding a Surgeon for Vaser Liposuction
Firstly, before you search for a cosmetic surgeon that is experienced with carrying out a Vaser Liposuction procedure, make sure to make an appointment with your GP, who can advise you on whether you are physically fit for the surgery. Your GP is aware of all your medical history and will be able to give you advice on what procedures you would be suited to. They may recommend that you go for a different surgery, or no surgery at all – they know best, so trust their advice.
Secondly, once they approve and decide that you are fit to undergo this kind of procedure, they may know a surgeon that is trained, well-known and experienced in the Vaser Liposuction process.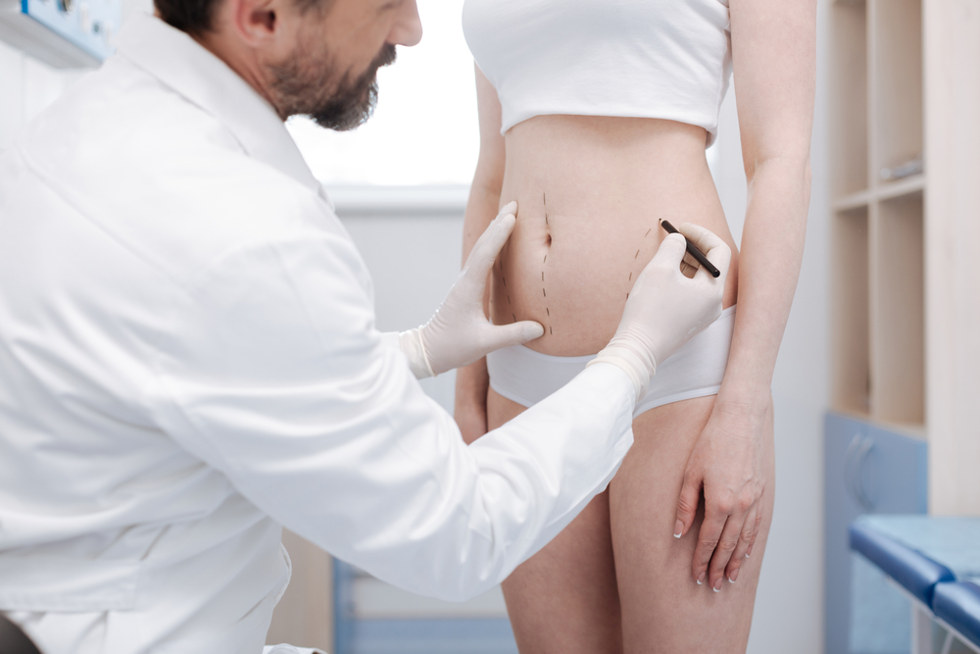 Alternatively, you could find a surgeon on the  British Association of Aesthetic Plastic Surgeons (BAAPS). This is a high-authority website which has an impressive record of many professional surgeons in the United Kingdom. The surgeon that you choose, however, should be registered with the  GMC – General Medical Council. The main point to take away from this, is that you should do thorough research and take your time when choosing the right surgeon for you. The decision to undergo cosmetic surgery shouldn't be taken lightly – make sure you're well informed.
(PhotoCredit: Dmytro Zinkevych/shutterstock.com)
Questions to Ask when Choosing a Surgeon for Vaser Liposuction?
How many years of experience do you have in performing Vaser Liposuction?

What qualifications do you have?

What type of liposuction, according to your professional opinion, do you think is best suited to me?

What are the main or most common risks of this procedure?

Have you ever had a patient that has had a serious issue during or after the procedure?

What anaesthetic will you use during the procedure?

Have your former patients been satisfied with their results?

If something goes wrong during the procedure, will you provide me with expert care or treatment?

What can you do if the treatment doesn't meet my expectations?

What is the cost of the procedure and is the consultation and aftercare included within this sum?
What if Something goes Wrong After or During the Procedure?
It's vital to understand that mistakes can happen and, although Vaser Liposuction is not as serious of a surgery as others, such as the original liposuction procedure, complications and problems can still occur.
Not being satisfied with the results, post-surgery, is possible. The best option is to try and address these issues and thoughts that you have, with the surgeon that performed the cosmetic procedure on you. The surgeon will assess the seriousness of the issue and will offer you treatment free of charge if it is deemed necessary. However, in the case of unsatisfactory results, you will be given access to another procedure, but you will most likely have to fund this yourself.
If you believe that a surgical error has been made on you during your Vaser Liposuction procedure, make sure to take it up with the CQC or the GMC so that you can tell then about what you had experienced. They will give you and informed and detailed answer on whether or not you have anything to worry about or not.