Every Country's Favourite Cosmetic Brand
Published on: 7 Jun 2021

Medically reviewed by a licensed NHS consultant
Last updated: 15/08/2019
Get Free & Simple Pricing, Procedure & After Care Information from a Licensed Consultant Now

Nowadays, make-up has become an integral part of our everyday lives. It not only makes us feel better, but more than that - it allows us to be creative and express ourselves in any way we like. And with so many different cosmetic brands on the market worldwide, it is certainly interesting to see if some brands are naturally more favoured around the world.
For that reason, we decided to conduct our very own study to identify every country's favourite cosmetic brand. Firstly, we extracted a list of 15 notable make-up brands from Brandirectory's 2021 report. Following that, we partnered up with SEMrush to identify the number of times each brand had been searched for in all 196 countries around the globe. Of these, data for 119 countries was available. 
Table of contents:
The most loved cosmetic brand worldwide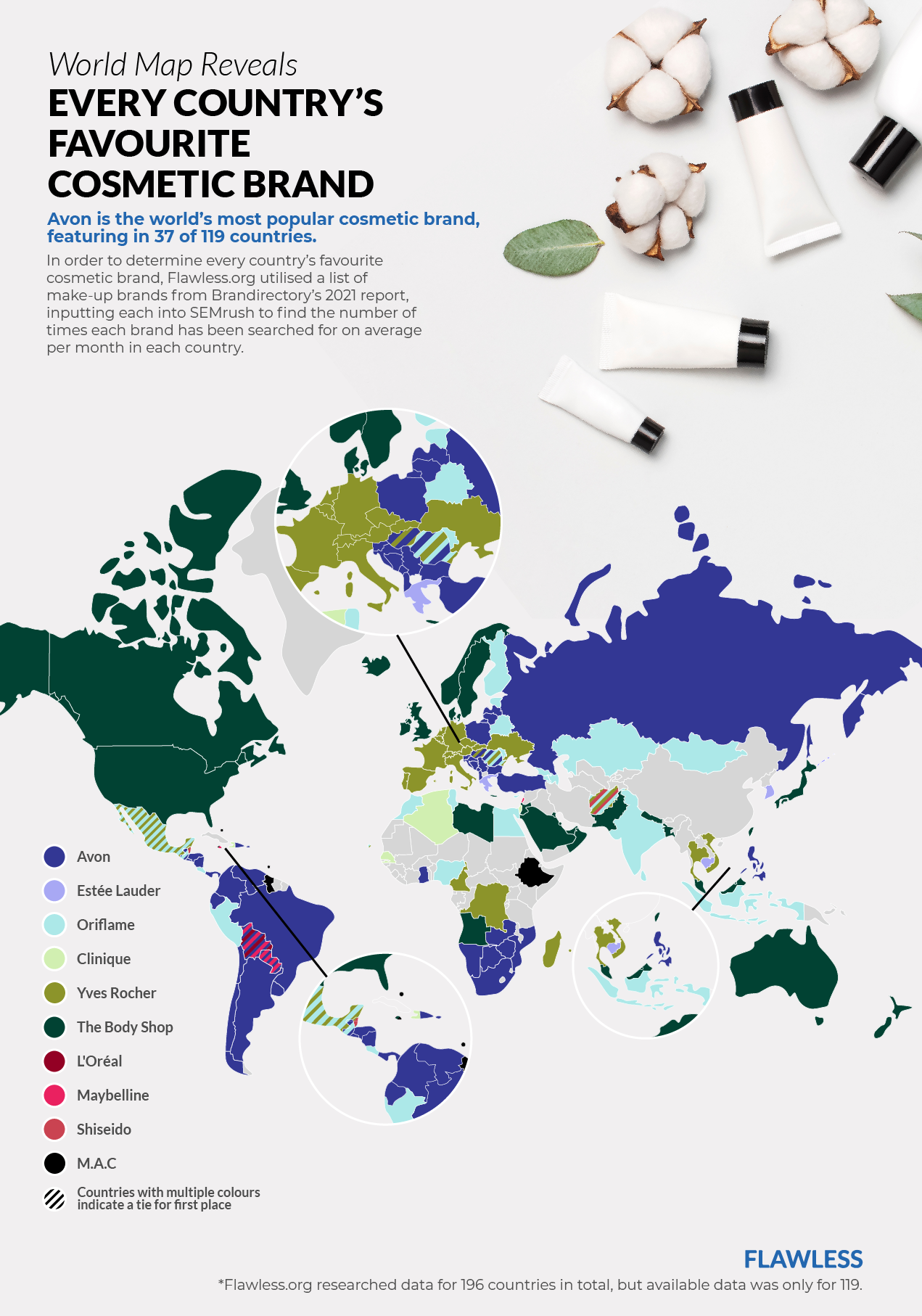 The cosmetic brands with the highest number of searches across all countries were Avon, Oriflame, The Body Shop and Yves Rocher, respectively. Avon, which has a staggering $3.63 million in revenue, featured in 37 countries around the world and has a combined average of 2,319,860 searches per month.
Founded in 1976 and trading in 70 countries worldwide, The Body Shop came in second after being searched for the most in 28 countries. The brand amassed one million average monthly searches in the United Kingdom alone, out of more than two million worldwide monthly searches. Oriflame and Yves Rocher were joint third favourites across 25 countries worldwide.
However, out of 15 brands reviewed, several didn't appear across every country analysed. These include Guerlain, Lancôme, Clarins, Benefit and Bobbi Brown.
The most popular cosmetic brand per continent
Let's take a closer look at every continent's cosmetic brand of choice.
Africa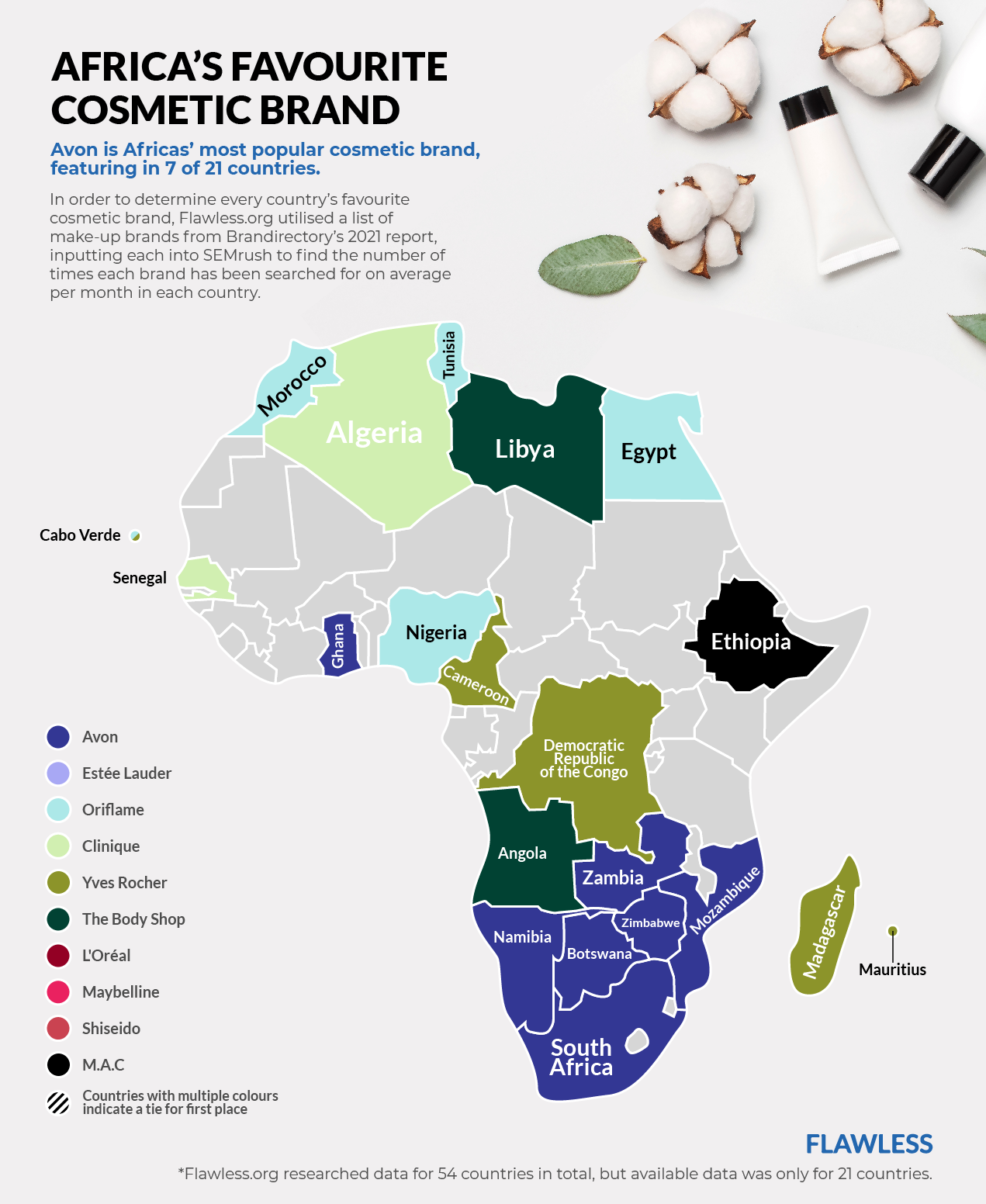 Of the 54 countries found on the continent, we were able to obtain data from 21 nations. Out of these 21 countries, Avon is the favourite cosmetic brand among seven countries (Botswana, Ghana, Mozambique, Namibia, South Africa, Zambia and Zimbabwe), with average searches for the brand reaching 49,500 per month in South Africa alone! Zimbabwe followed with 1,900 searches per month on average.
Yves Rocher and Oriflame are the second most popular cosmetic brands, featured in five countries each. Yves Rocher is most prominent in Mauritius with 2,400 average monthly searches, whereas Oriflame is most popular in Morocco with 40,500 average monthly searches for the brand. The least searched for beauty brands in Africa are M.A.C and Shiseido, with both brands appearing in just two countries.
Asia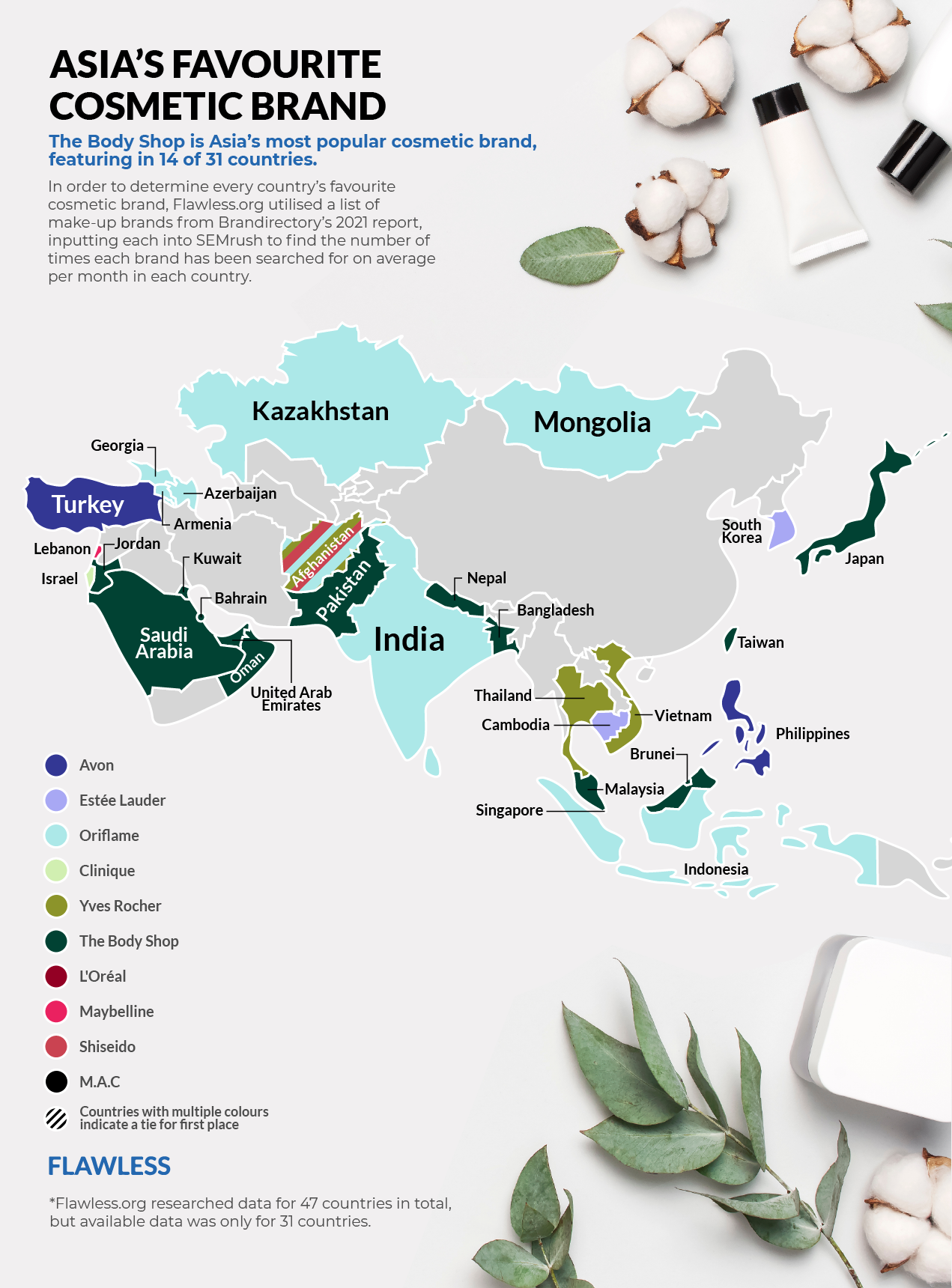 Our analysis can reveal that Asia's favourite cosmetic brand is The Body Shop. Of the 47 countries on the world's largest continent, data was available for 31 countries in total. 
Of the 31 countries studied, The Body Shop features amongst 14 countries, with searches reaching 169,840 on average each month collectively, with searches in Malaysia leading the way (40,500). 
The second most popular cosmetic brand in Asia is Oriflame, featured among 10 countries and has 1,792,690 monthly average searches combined. India and Malaysia search for the brand the most, with 823,000 searches on average per month each. 
On the other hand, Clinique, Maybelline and Shiseido accumulated the least interest in Asia, appearing just once across all 31 countries studied. Shiseido is the least searched for brand overall on the continent with a mere 90 Google searches per month.
Europe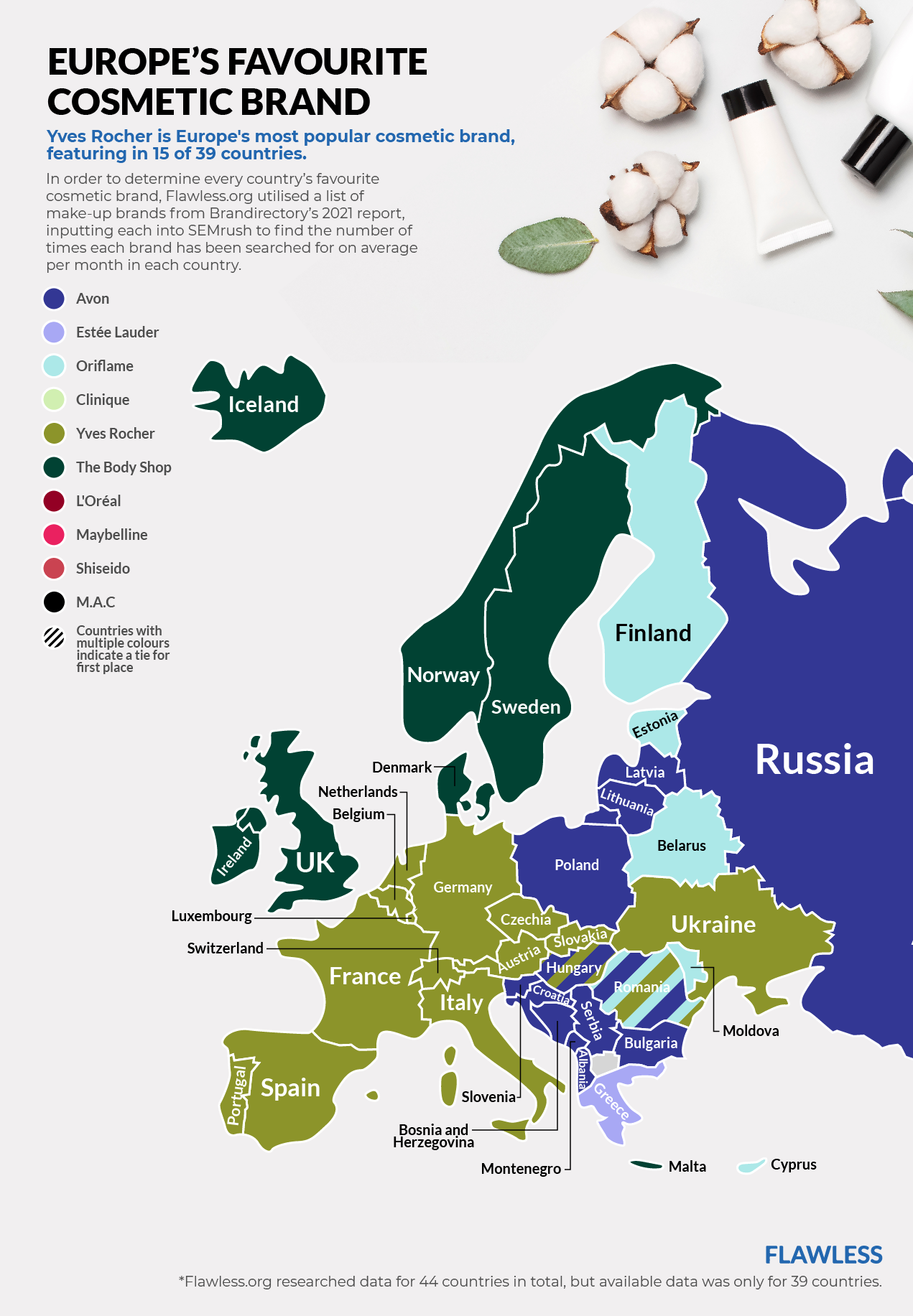 Our analysis can reveal that Europe's top cosmetic brand is Yves Rocher. Of the 44 countries on the continent, we were able to obtain data from 39 in total. 
Yves Rocher appeared across 15 countries out of the 39 studied on the continent, with the brand racking up 823,000 average monthly searches in three countries - Germany, France and Spain. 
Following closely behind is Avon, featuring in 13 countries, and Estée Lauder appeared to be the brand that Europeans searched for the least, featuring in just one country.
North America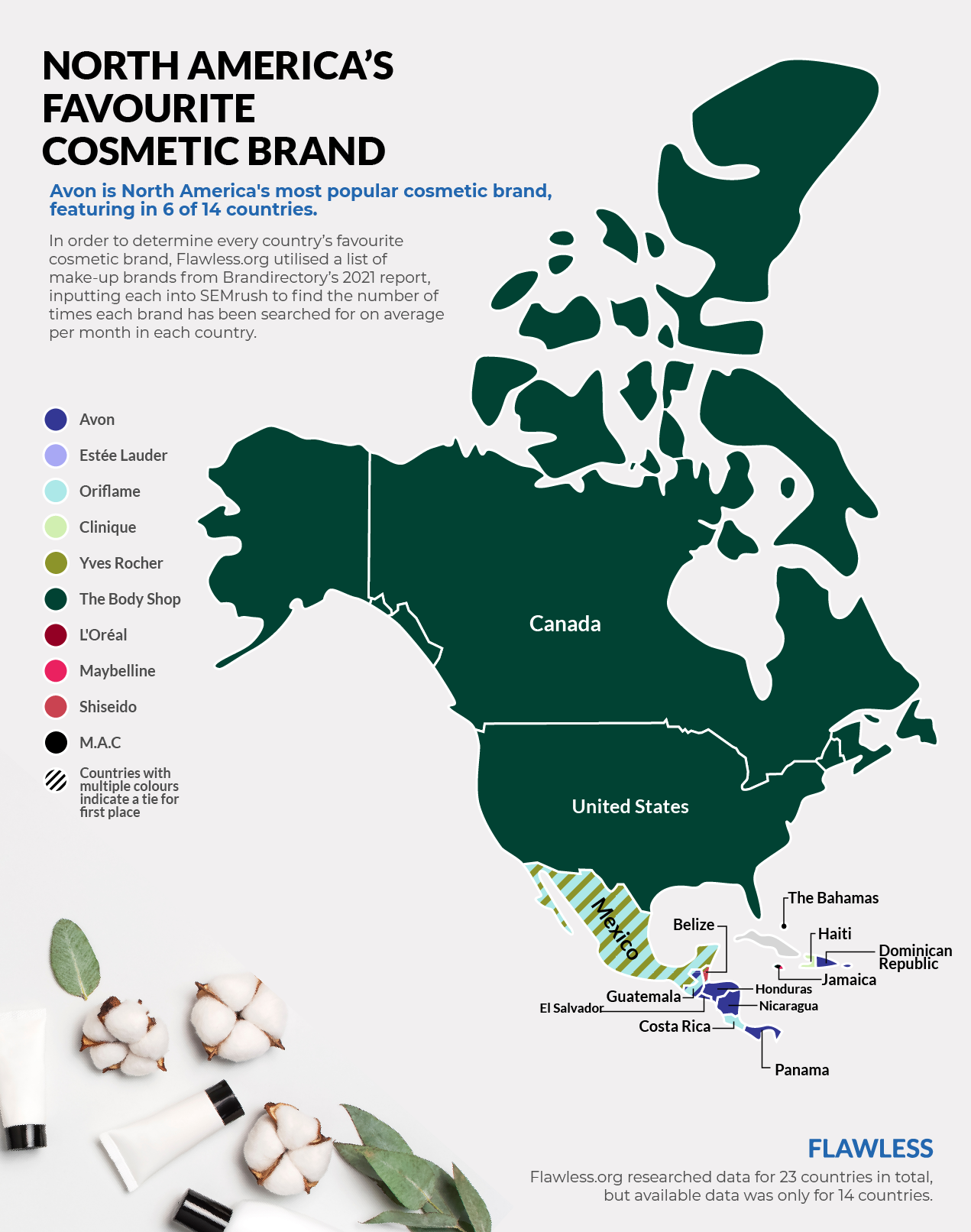 We can report that the top cosmetic brand in North America is Avon. Of the continent's 23 countries, data was available from 14 and, of these, Avon featured in six. Most notably in the Dominican Republic, with nearly 10,000 average monthly searches.
Following closely behind is Oriflame, featuring across four countries on the continent, and The Body Shop among three - most notably the United States where searches reach around 368,000 per month on average. Shiseido, Maybelline and Clinique were the least popular brands on the continent; however, Shiseido is the least popular of all, securing just 90 searches and featuring only in Belize.
South America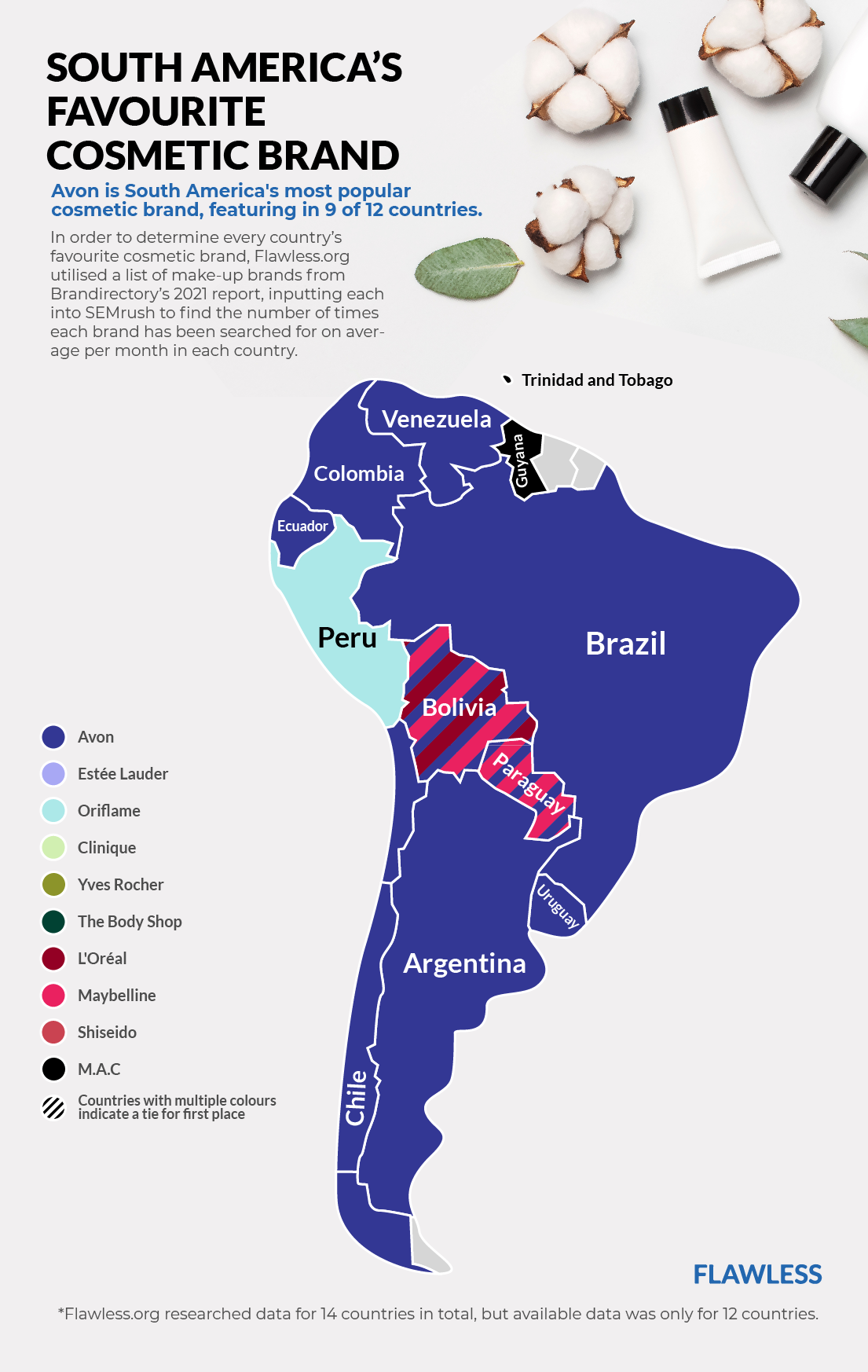 Similarly to neighbouring North America, South America's favourite cosmetic brand is also Avon. Of the 14 countries on the continent, we were able to gather data from 12 countries overall and, of these, Avon reigned supreme across nine. Brazilian cosmetic enthusiasts seem to love the brand most, with one million average searches per month!
The least searched for brand in South America is L'Oréal after featuring in just one country (Bolivia) and having just 480 searches in total. Oriflame - which only featured once (Peru) - had the second highest number of searches, with 823,000 per month on average.
Pacific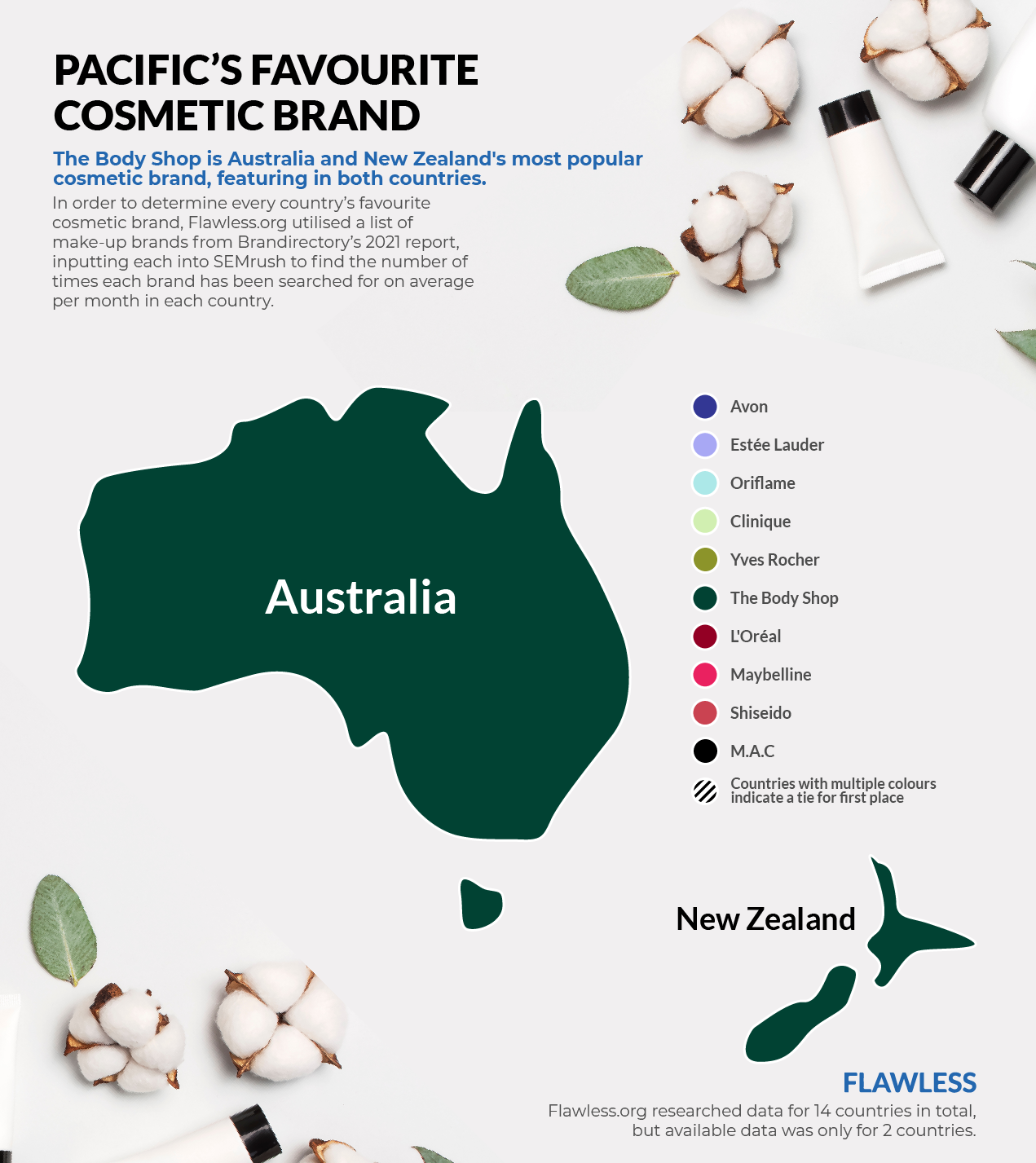 Even though the Pacific is home to 14 countries, data was only available for two: Australia and New Zealand. Proving to be the ultimate brand of choice and the outright winner in both countries is The Body Shop, with the cosmetic brand racking up an average of 165,000 searches per month in Australia and 14,800 in New Zealand. 
---
Methodology: 
Flawless.org compiled a full list of every country in the world, using Britannica.
Following that, a list of 15 notable make-up brands was extracted from Brandirectory's 2021 report.
After a complete seeding list was refined, each brand was input into Google search analytics tool SEMrush to find the number of times every brand had been searched on average per month in each country.
Data was analysed for 196 countries in total, but available data was only for 119 countries.
The brand that had the highest number of search volumes in a country was determined to be that country's favourite. 
The research was conducted on 21 May 2021.