Laser Hair Removal
Published on: 12 Nov 2019, 9:21 a.m.

Medically reviewed by a licensed NHS consultant
Last updated: 15/08/2019
Get Free & Simple Pricing, Procedure & After Care Information from a Licensed Consultant Now
Table Contents 
What is Laser Hair Removal?
Laser hair removal is a cosmetic solution to remove unwanted hair. If you're fed up of shaving, waxing and plucking this could be the treatment for you. 
Laser hair removal is the most popular aesthetic procedure for women under the age of 35 (the treatment is also popular among men). The procedure involves beaming highly concentrated light or lasers into the hair follicles (specifically into the melanin found within the hairs). This light is converted into heat, destroying current hairs and damaging hair follicles (preventing the growth of new hairs). 
The most commonly treated areas are legs, arms, bikini lines and armpits. 
Am I a good candidate for Laser Hair Removal?
Laser hair removal can be a great option if you desire smooth, hairless skin. However, before changing your appearance permanently, you should consider the advantages and disadvantages of cosmetic procedures.
Certain patients are naturally better suited to laser hair removal than others. It is vital you are realistic about your results and understand that results vary in individuals. 
In general, you are a good laser hair removal candidate if you agree with the following
If you are insecure or want to get rid of unwanted hairs (e.g. women suffering from hirsutism).

You have dark hairs (laser hair removal works best if you have light skin and dark hair). Although new lasers make it suitable for all skin types. 

You desire long term hair removal results

You desire to treat a large area of your body. Laser hair removal isn't recommended for eyelids, eyebrows or surrounding areas.
Professional Laser Hair Removal VS Home Laser Kits
Both home laser kits and professional hair removal can be an effective technique to acquire smooth hairless skin. However, home laser kits do not require a trained professional, so the threshold is much lower than what is used in the clinics. Laser hair removal in a clinic can reach 40k/cm2 of optical energy whereas home lasers can only output 20 J/cm2. It's a significant difference and means home lasers are not as effective or suitable for many patients. 
In summary, home laser kits will not achieve the same results you will get from a trained surgeon, with professional equipment. Furthermore, there has been little long-term research into the safety and effectiveness of home laser machines. 
Different types of Laser Hair Removal?
There are a number of different types of laser treatments available to patients, depending on a number of factors such as skin colour. The five most common lasers used include: Ruby, Alexandrite, IPL, Diode and Nd: YAG. 
Ruby
Ideal for hair that is light and thin. 

Ruby laser has a long pause between laser pulses to decrease discomfort. 

However, this laser treatment requires more time than others. 

Ruby is mainly used to treat smaller areas. 
Alexandrite 
The most common laser 

Procedure is very quick. 

Useful for treating large areas. 

However, this laser can cause more pain and discomfort.

Suitable for individuals with light to olive skin tones.  
Diode
Laser contains longer wavelengths then other lasers, enabling it to penetrate deep into the skin. 

Suitable for darker skin colours

Ideal for removing thick and coarse hair. 

Popular laser among men seeking to remove hair on their back or chests.
Nd: YAG
This laser targets carbon in the hairs instead of melanin (unlike the other lasers). This makes the laser very effective at treating all skin types even tan skin tones

This laser can not only remove hairs but can also resurface laser skin and remove tattoos.
IPL hair removal 
Emits an intense pulsed laser light instead of a laser

Can customise the wavelength, energy level and pulse duration – to suit different skin types

Not as effective at removing hair long term 
How do you prepare for Laser Hair Removal?
Before your laser hair removal-doctors may recommend that you:
Avoid prolonged exposure to the sun (approximately six weeks before treatment) and use sunscreen daily.

Do not use creams that darken your skin. Doctors many even prescribe bleaching creams to remove any tan. 

Do not use hair removal methods, four weeks before your procedure (e.g. do not pluck, wax, or shave any area of your body).

Stop taking any medication that causes your blood to thin. However, you must consult your doctor before you stop any prescribed medication. 

Your doctor may ask you to trim or shave the treated area, a day before treatment. 
Laser Hair Removal Procedure
Your doctor will give you protective googles, to reduce risk to your eyes. After which, a cooling gel will be applied to the area being treated to help reduce discomfort. 
Your doctor will then press the laser machine against your skin, allowing the laser to beam into your hairs. The light from the laser is transferred into heat, which damages the melanin in your skin (melanin is responsible for hair growth).  
You may experience some discomfort throughout the treatment. The cooling gel can cause a cold sensation and the lasers can feel like a pinprick against your skin. 
The procedure can take a few minutes to an hour depending on the areas being treated. E.g. your upper lip will only take a few minutes, but legs, arms and backs will take around an hour.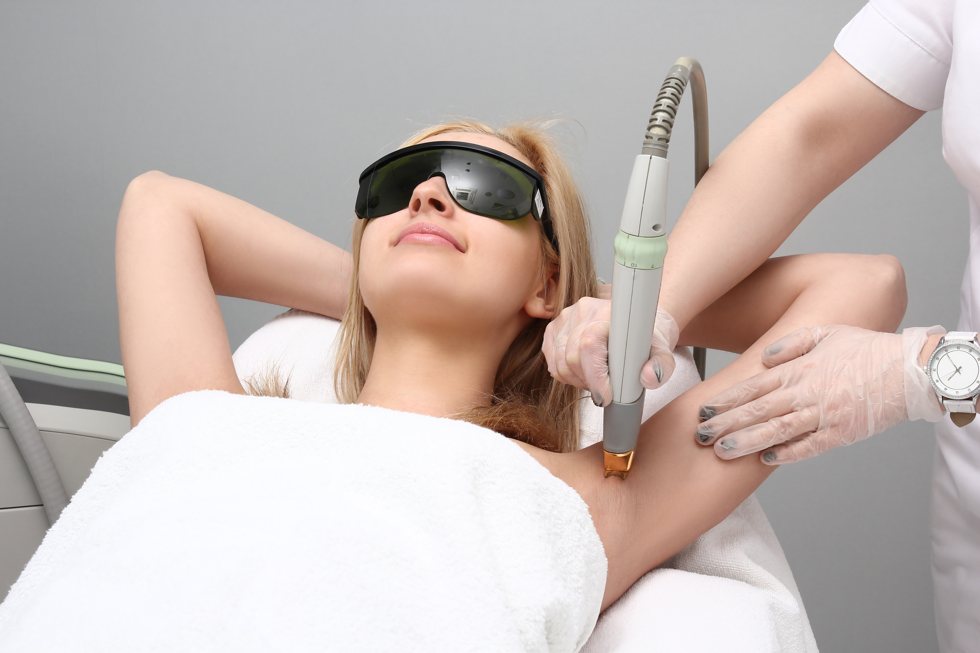 Laser Hair Removal Recovery
The treated area will be red and sore immediately after the procedure (for a few hours to a few days). To reduce any redness and swelling, it is recommended to apply an ice pack over the areas regularly. 
Your doctor may apply a steroid cream if your skin immediately reacts to the treatment.
Laser hair removal makes your skin sensitive, so it is recommended to avoid any sun exposure including sun beds for at least 6 weeks (or until your doctor instructs you too). 
Before and After Laser Hair Removal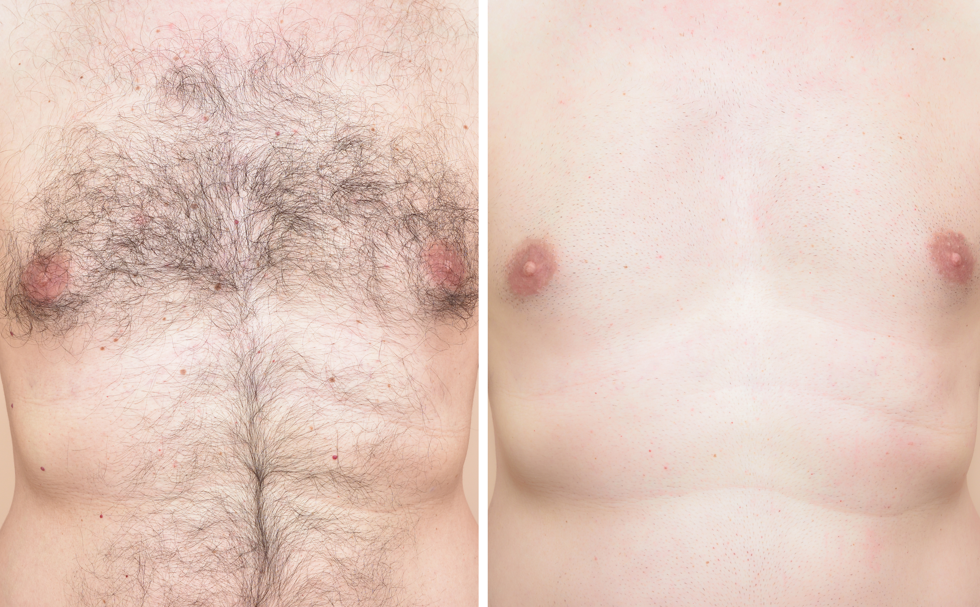 PhotoCredit; ShutterStock/Zdravinjo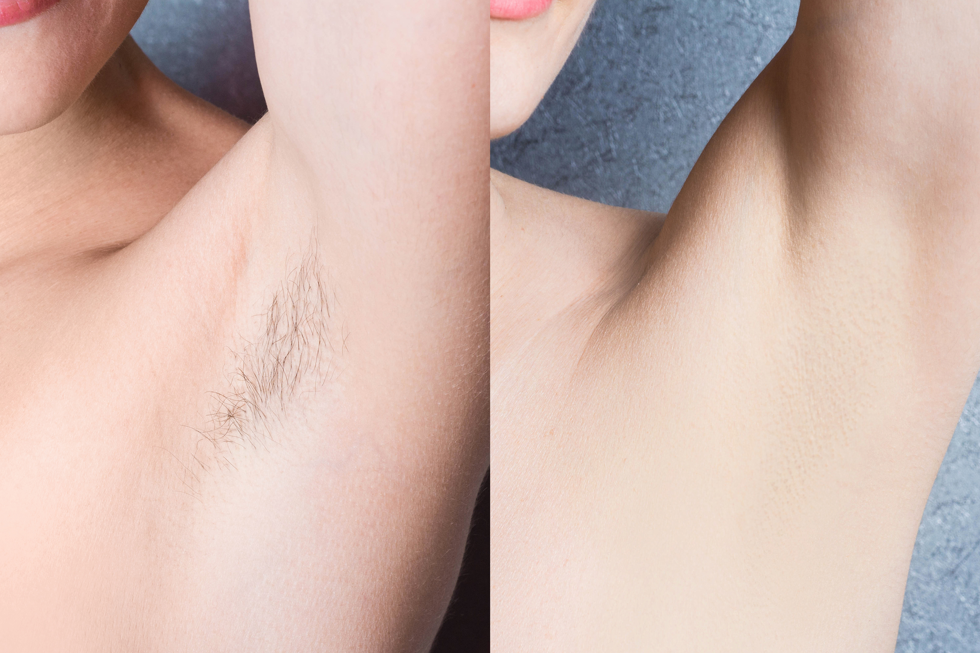 PhotoCredit: ShutterStock/LanaVeshta 
Laser Hair Removal Results
Results should appear over the next few days/weeks post treatment. Results do not appear immediately as the hairs shed over time. Repeated treatments are required as hair growth and loss occur in a natural cycle. Laser hair removal is usually administered in the early stages of hair growth. 
Results vary depending on a number of factors such as skin colour and hair length. Generally, patients experience hair loss which last for several months to years. Laser hair removal has been reported to offer up to 80% reduction in treated hair with 71-percent of patients being satisfied with the treatment. 
However, laser hair removal is not permanent and repeated treatments will be required. 
Laser Hair Removal Risks
As with any cosmetic surgery, there are risks of laser hair removal. Side effects of laser hair removal will vary depending on the patient's skin colour, treatment plan etc. 
Although common side effects of Laser hair removal include:
pain, discomfort 

redness

swelling, bruising

crusting, blistering or burns from the lasers' heat 

changes in your skin tone (lighter or darker)

scarring

infections

very rarely patients may experience greying of treated hair or excessive hair growth
Furthermore, despite concerns there is no evidence to suggest that laser hair removal causes cancer or infertility.
Laser Hair Removal Cost?
The cost of laser hair removal varies depending on a number of factors, such as the surgeon's experience, geographic location, size of the treatment area and number of sessions.
Laser hair removal often costs around £150-£300 per treatment. Generally, laser hair removal costs £270 for arms, £130 for the bikini lines and around £300 for full legs.
Laser hair removal is a costly treatment, with multiple sessions being required to achieve the desired results. 
Although laser hair removal is relatively expensive, studies have proven it is a cheaper option then waxing. For example, Harper's Bazaar compared the cost of 3 sessions of hair removal to 35 years of regular waxing. The study found that laser hair removal costs less than a third of that of waxing. 
Finding a Surgeon
Getting a well-trained experienced surgeon will ensure you get the results you desire. You should make sure your surgeon is suitably qualified and experienced in laser hair removal. Ensure your surgeon is registered on either the British Association of Aesthetic Plastic Surgeons (BAAPS), the Joint Council for Cosmetic Practitioners (JCCP), Save Face or the British Association of Cosmetic Nurses (BACN). You should avoid any clinics that promise permanent hair loss or pressure you into a decision (these are red flags!). 
Make sure you have a consultation or phone call with your surgeon, to discuss the following: 
What type of laser they will use on your skin? 

If they are registered and clinically approved to administer laser hair removal 

Their previous experience and training 

Current reviews and before and after photos of previous patients. 

Whether the clinic offers a patch test and if this is free
If you are still unsure, find out more about choosing a plastic surgeon.